---
2002–2003 Schedule of Events
---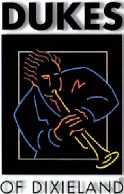 Saturday, 21 September 2002, 8:15 PM
The Dukes of Dixieland
The Dukes of Dixieland blow traditional jazz and Dixieland into the 21st Century, weaving strands of pop, gospel, and country with authentic New Orleans sounds. More than 27 years of tradition stand behind today's Dukes as they step forward with a sound that is durable and flexible, as jazz is meant to be. The Dukes of Dixieland-strong tradition, new ground, great sounds.
The Dukes of Dixieland Home Page.
Program Notes for the Evening's Concert. (Requires Adobe Acrobat Reader (tm) which you can obtain free here).

---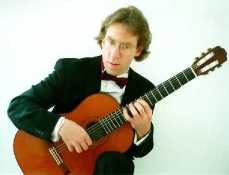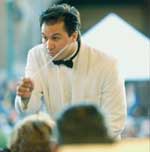 Thursday, 17 October 2002, 8:15 PM
Syracuse Symphony Orchestra
Daniel Hege
, Conductor
Eliot Fisk
, Guitar
Daugherty: Red Cape Tango
Rodrigo: Fantasía Para Un Gentilhombre
Beethoven: Symphony No. 3 "Eroica"
Now in his fourth season as Music Director of the Syracuse Symphony Orchestra, Daniel Hege is widely recognized as one of America's finest young conductors. He has earned critical acclaim for his fresh interpretations of standard repertoire and is recognized for his commitment to creative programming. His previous positions include Music Director of the Haddonfield Symphony (New Jersey), Associate Conductor of the Kansas City Symphony, Music Director of the Encore Chamber Orchestra in Chicago and Music Director of the Chicago Youth Symphony Orchestra, where he was twice honored by the American Symphony Orchestra League for innovative programming. In June 2001, he finished a five-year tenure with the Baltimore Symphony Orchestra, where he held the titles of Assistant, Associate and Resident Conductor and led the orchestra in subscription, family and run-out concerts.
Recent guest conducting engagements include appearances with the Houston, Seattle, Oregon, Colorado and Charlotte symphonies, the Rochester Philharmonic, and Louisiana Philharmonic, and the Aspen Music Festival. He has also made two recordings: a disc with the Baltimore Symphony Orchestra and Morgan State University Choir featuring works by Adolphus Hailstork, and his first CD with the Syracuse Symphony Orchestra featuring works by Verdi, Barber, Debussy, Respighi and James Johnson.
Born in Colorado and raised in Idaho, Mr. Hege resides in Jamesville with his wife, violinist Katarina Oladottir Hege, and their daughters Arianna, and Anna Sophia.

A born risk-taker and a restless, imaginative virtuoso, Eliot Fisk has brought an entirely new dimension to classical guitar performance. His repertoire includes a large body of guitar music consisting of works written for him by composers such as Robert Beaser, Luciano Berio and George Rochberg as well as his own daring transcriptions of works of historical siginificance by Bach, D. Scarlatti, Haydn, Mozart, Mendelssohn, Granados, Albeniz and others. He was voted Best Classical Guitarist in the 26th Annual Guitar Player Magazine Readers' Poll.

Syracuse Symphony Home Page
Program Notes for the Evening's Concert. (Requires Adobe Acrobat Reader (tm) which you can obtain free here).
---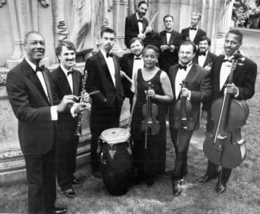 Friday, 22 November 2002, 8:15 PM
Orquesta La Moderna Tradición
Orquesta La Moderna Tradición is one of the only ensembles in the United States, perhaps the world, that is dedicated to the performance of classic Cuban dance music-son, guaracha, cha cha cha, and especially, the lilting grooves of the danzón. A legendary ballroom style that developed from the syncretization of African and European music in Cuba, danzón blends the groove of Afro-Cuban drums with the refined riffs of flute and violins. One of the most popular styles at the turn of the century, danzón led directly to the development of the cha-cha-cha and Argentinean tango. Led by the renowned Cuban dancer and percussionist Roberto Borrell and violinist/composer Tregar Otton, Orquesta la Moderna Tradición performs classics of the genre along with original compositions designed to keep the tradition alive and kicking.
Información de la Orquesta La Moderna Tradición en Español
Program list for the evening's performance:
San Pasqual Bailón (Contradanza)
El Sungambelo (Danza)
El Ñañigo (Danza)
Alturas del simpson (Danzón)
El Bombin de Barreto (Danzón)
Tres Lindas Cubanas (Danzón)
Serenata de Schubert (Danzón)
Ay Jose (Cha-Cha-Cha)
Que Se Fuñan (Son-Montuno)
Te tengo bajo de mi piel (Danzón-Cha)
En Un Barco Velero (Guaracha)
Mayeya, no Juegues con los Santos (Son)
Mi Cha-Cha-Cha (Cha-Cha-Cha)
Carnegie Hall (Danzón-Cha)
Los Sitios Llaman (Danzón-Cha)
Canta la Ceiba (Songo)
Angoa (Danzón-Cha)
Goza Conmigo (Cha-Cha-Cha)
Envidia (Danzón-Cha)
Asimilalo (Timba)
Program Notes
for the Evening's Concert
Orquesta La Moderna Tradición Home Page
Orquesta La Moderna Tradición Residency in Geneva
A two-day residency in Geneva by the Orquesta La Moderna Tradición was underwritten by a major grant from the Williams Family Foundation with additional grants and in kind support from NYSEG, Tops Friendly Markets, Wegmans, the Geneva Lakefront Ramada Inn, the Hobart and William Smith Colleges Dining Services, the Department of Dance at Hobart and William Smith Colleges, and the contributions of the supporters of Geneva Concerts. Thanks!







---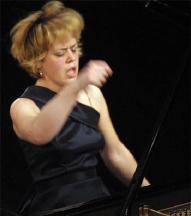 Sunday, 23 March 2003, 3:00 PM
Syracuse Symphony Orchestra
Daniel Hege
, Conductor
Olga Kern
, Piano (2001 Van Cliburn Gold Medalist)
Zwilich: Celebration.
Bartók: Miraculous Mandarin Suite
Rachmaninoff: Piano Concerto No. 3
Every four years, the
Van Cliburn International Piano Competition
brings together approximately thirty young musicians from around the world to celebrate their gifts and compete for a wide variety of prizes, including generous cash awards and numerous concert engagements. The competition is a rigorous and comprehensive examination of every facet of each contestant's musicianship and technical proficiency. All competitors are heard in recital; twelve semifinalists play new works and performances of chamber music; and six finalists perform two concerti with the Fort Worth Symphony Orchestra and the Fort Worth Chamber Orchestra under the direction of a major international conductor. It is the task of the distinguished jury to ultimately select the medalists.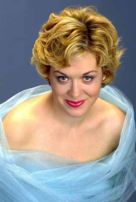 Olga Kern was named a gold medalist of the Eleventh Van Cliburn International Piano Competition on June 10, 2001, the first woman to have achieved this distinction since 1969. In addition to the medal, she was awarded two years of international concert engagements and career management, a compact disc recording of her award-winning Cliburn Competition performances for the harmonia mundi label.
Born into a family of musicians, Ms. Kern began studying piano at the age of five. She is a laureate of several international competitions, including the Hamamatsu, Ciani, and China Competitions, and has toured throughout her native Russia, Europe, and the United States, as well as in Japan, South Africa, and South Korea. She has performed in many of the world's most important venues, including the Great Hall of the Moscow Conservatory, Symphony Hall in Osaka, La Scala in Milan, and the Salle Cortot in Paris. The recipient of an honorary scholarship from the President of Russia in 1996, she is a regular soloist with the Moscow State Symphony and has also appeared with the Moscow Philharmonic, Russian National, China Symphony, Belgrade Philharmonic, Torino Symphony, and Johannesburg Philharmonic Orchestras. As a result of her success at the Cliburn Competition, Ms. Kern will make her Boston Pops debut during the summer of 2001 and will tour throughout the United States and Europe during the 2001-02 concert season.


Program Notes for the Evening's Concert
Syracuse Symphony Home Page
---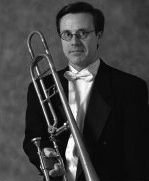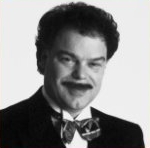 Friday, 11 April 2003, 8:15 PM
Rochester Philharmonic Orchestra
Jeff Tzyik
, Principal Pops Conductor
Mark Kellogg
, Trombone
Kernis: New Era Dance
De Falla: Three-Cornered Hat
Tyzik: Concerto for Trombone and Orchestra (World Premiere)
Bernstein: On The Town: Three Dance Episodes
Stravinsky: Firebird (1919)
Jeff Tyzik has earned a reputation as one of America's foremost pops conductors. Tyzik is known for his innovative programming, creative arrangements and his wonderful rapport with audiences of all ages. Recent engagements have included the symphonies of Detroit, Saint Louis, Houston, Pittsburgh and his debut with the Boston Pops.
Tyzik has been the Principal Pops Conductor with the Rochester Philharmonic Orchestra since 1993. In addition to his duties as Principal Pops Conductor, Tyzik has created innovative programs for the RPO's educational series, "Casual Sunday Matinee" series and the community outreach "Around The Town" series. His creative programming and audience skills have attracted record-breaking attendance at RPO concerts. In addition, Tyzik is constantly engaged as a guest conductor throughout the U.S. and Canada.

Program Notes for the Evening's Concert
Rochester Philharmonic Orchestra Home Page