---
2004–2005 Schedule of Events
---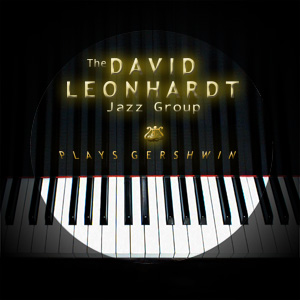 Friday, 1 October 2004, 8:15 PM
The David Leonhardt Group and the Shelley Oliver Tap Dancers
All Gershwin Program
David Leonhardt, jazz pianist and composer, has twenty-five years of professional experience which includes concerts and festivals, night clubs and stage shows, recordings, He has appeared internationally throughout North and South America, Europe, the Middle and the Far East. Recently Mr. Leonhardt arranged and recorded the #1 jazz CD "Under a Woodstock Moon" with saxophonist David Newman and appeared with flutist Herbie Mann and bassist Ron Carter on the CD "Celebration."
Performing and studying as a teenager in Louisville, Kentucky with noted educator Jamey Aebersold, Mr. Leonhardt acquired his skills backing such diverse jazz talents as Buddy Defranco, Dave Liebman, and Buddy Tate. After moving to New York City in his twenties Mr. Leonhardt established himself as an international performing artist when he toured for four years as pianist for jazz legend Jon Hendricks. Six years as a member of the "Fathead" Newman Quintet furthered his reputation and made his name familiar on the New York jazz scene. He went on to co-lead a band recording t hree C.D.s for the Muse label and performing in the U.S., Japan, and Europe. In 1993 he founded Big Bang Records and released his first CD "Departure" to great critical acclaim as well as his popular CD "Reflections". He was musical director for the dance group Manhattan Tap for three years and is now the musical director and arranger for The Muhlenberg Jazz Tap Ensemble.
Mr. Leonhardt has produced, arranged, and performed on numerous recordings with jazz stars Stan Getz, Slide Hampton, Jon Hendricks, Eddie Henderson, Robin Eubanks, Ray Drummond, and Lewis Nash. His compositions have been recorded by such jazz greats as Stanley Turentine, David "Fathead" Newman, Hank Crawford, and Claudio Roditi. He has written arrangements for The Art Blakey Big Band and been guest conductor and arranger for The Benny Carter Orchestra.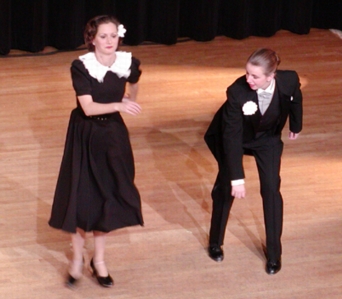 At present Mr. Leonhardt is leading his own band with successful appearances at the International Arts Festival of Shenzen in China, the Winnipeg Jazz Festival, The French Maison de Dance in Lyon, as well festivals and concerts throughout the United States. His all star group has been heard at The Apollo Theater, The Blue Note, Birdland, and Sweet Basil. He is a well known educator, gives clinics world wide, and writes for the magazine "Piano Today". Mr. Leonhardt has twice been the Artist in Residence at Lafayette College and is on the roster of The Pennsylvania Arts On Tour.
Shelley Oliver has over twenty years experience as a professional tap dancer in which time she has appeared internationally with some of the legends of the tap world. She is a founding member of noted dance ensemble, Manhattan Tap and was a co-artistic director/choreographer with the company for two years. She has toured extensively throughout Europe, China, the Caribbean, Canada and the U.S., performing with such tap notables as Savion Glover, Jimmy Slide, Buster Brown, and Chuck Green.
Her television appearances include Tap Dance in America with Gregory Hines and Star Search, in which she was a finalist. Ms. Oliver has performed with many jazz greats including Slide Hampton, David "Fathead" Newman, and Kenny Washington. A noted dance educator Ms. Oliver teaches jazztap at Muhlenberg College, choreographs for the theater, and is Director of the Muhlenberg Jazz Tap Ensemble. She has conducted work shops and residencies for Lincoln Center, New York City Public Schools and universities through out the United States. She is the featured tap soloist with the David Leonhardt Jazz Group touring jazz festivals and concerts worldwide and is the author of the CD "Tap Music For Tap Dance."

David Leonhardt Home Page.
Shelley Oliver Home Page.
Program Notes for the Evening's Concert. (Requires Adobe Acrobat Reader (tm) which you can obtain free here).
Associated Outreach
A school-time performance by the David Leonhardt Jazz Group and the Shelley Oliver Tap Dancers Geneva High School was held on October 1, 2003. Later in the day, Dave Leonhardt and Band held a clinic for the Geneva High School and Middle School Jaz Bands. At Hobart and William Smith Colleges, a master class with Shelley Oliver was held for students in the Department of Dance.
This project is partially supported by a grant from Pennsylvania Performing Arts On Tour, a program developed and funded by the Vira I. Heinz Endowment, The William Penn Foundation, The Pennsylvania Council on the Arts, and The Pew Charitable Trusts and Administered by Mid Atlantic Arts Foundation. Additionally, the project was underwritten by a major grant from an anonymous donor, by the Department of Dance at Hobart and William Smith Colleges, and the contributions of the supporters of Geneva Concerts. Thanks!





---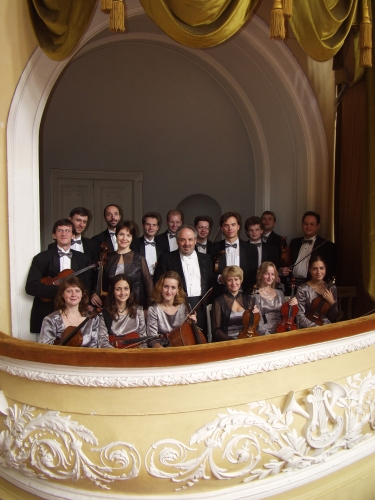 Friday, 19 November 2004, 8:15 PM
Chamber Orchestra Kremlin
"The Audience Votes" Program
Misha Rachlevsky
, Music Director
The Chamber Orchestra Kremlin, founded and led by Russian-born American conductor Misha Rachlevsky, has earned international recognition as one of Russia's leading ensembles. Formed in Moscow during the heady aftermath of the momentous events in August 1991, the orchestra is comprised of some of the finest young Russian musicians, graduates of the Moscow Conservatory and the Gnesin Music Academy. The orchestra tours extensively throughout Europe, the Far East and the United States. The core of its concert repertoire is drawn from the 19th and 20th centuries.
With one decade of excellence under its belt, a devoted audience in its home base, Moscow, an award-winning CD catalog of over twenty CDs and an increasing demand for performances internationally, Chamber Orchestra Kremlin enthusiastically embarks on a second decade of concerts, festivals, recordings and touring.
Have you ever wanted to create your own concert program. That's what the audience members will do for this performance. For this concert purchasers of a season ticket will receive a three-piece companion set of information:
A Guide. The voting guide lists the 21 compositions offered by the orchestra for voting, as well as instructions for the voting procedure.
A Booklet. The booklet contains program notes for 21 compositions, as well as information about Misha Rachlevsky and Chamber Orchestra Kremlin and its recordings.
A CD. On the CD, one can hear excerpts from each of the 21 works offered. The same CD, placed into a PC or MAC computer, displays program notes and a wealth of other information, similar to that found on the orchestra's website, including a video of a live performance by the orchestra.
Some of this information is available at online:
The Audience VOTES! Program
.
The night of the concert, all members of the audience will vote on which of the following pieces, one from each column, that the orchestra will play.


| | | |
| --- | --- | --- |
| Mozart: Divertimento In D, K. 136 | Schoenberg: Verklaerte Nacht, Op. 4 | Schubert: Death And The Maiden |
| Rossini: Sonata For Strings | Bartok: Divertimento | Mendelssohn: Octet For Strings |
| Grieg: Two Elegiac Melodies, Op. 34 | Prokofiev: Visions Fugitives, Op. 22 | Brahms: Sextet No. 2, G Major, Op. 36 |
| Elgar: Serenade For Strings | Shostakovich: Chamber Symphony, Op. 110 | Tchaikovsky: Serenade For Strings, Op. 48 |
| Arensky: Variations On A Theme By Tchaikovsky | Vainberg: Chamber Symphony No. 1, Op. 145 | Dvorak: Serenade For Strings, Op. 22 |
| R. Strauss: Sextet From Opera Capriccio | Schnittke: Lamento For Strings | Suk: Serenade For Strings, Op. 6 |
| Stravinsky: Concerto In D | Shchedrin: Russian Photographs | Strauss: Metamorphoses |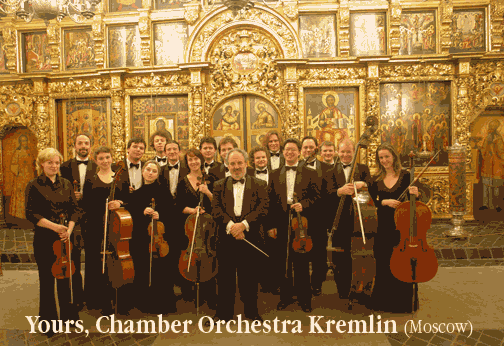 To read program notes about these pieces and to listen to samples, go to: The Audience VOTES! Program.
Chamber Orchestra Kremlin Home Page
Program Notes for the Evening's Concert. (Requires Adobe Acrobat Reader (tm) which you can obtain free here).
The photo to the left was taken at the altar of the Patriarch Palace of the Moscow Kremlin, where the orchestra's Ninth International Music Festival "CHRISTMAS AT THE KREMLIN" was held.

---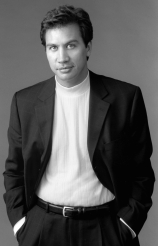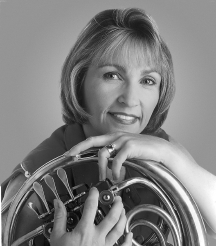 Thursday, 17 February 2005, 8:15 PM
Syracuse Symphony Orchestra
Daniel Hege
, Conductor
Gail Williams
, Horn
Allen Shawn: Elixir
Richard Strauss: Horn Concerto No. 1 in Eb, Op.11
Gustav Mahler: Symphony No. 1 in D Major, "Titan"
Gail Williams is an internationally recognized hornist and brass pedagogue. She has presented concerts, master classes, recitals and lectures throughout North America, as well as in Europe and Asia. Ms. Williams joined the Chicago Symphony Orchestra in December of 1978, and was appointed Associate Principal Horn in 1984, a position she held until her retirement from the orchestra in 1998. She has been a member of the Chicago Lyric Opera Orchestra, and is currently Principal Horn of the Grand Teton Music Festival Orchestra. As a featured horn soloist, Ms. Williams has performed with the Chicago Symphony Orchestra, San Antonio Symphony, Sinfonia da Camera, New World Symphony Orchestra, the Grand Teton Music Festival Orchestra, Syracuse Symphony, and a number of regional orchestras.
Ms. Williams is also dedicated to performing and promotion chamber music. Recently, she has performed with the Vermeer Quartet, the Chamber Music Society of Lincoln Center in New York City, The Skaneateles Music Festival, and the Olympic Peninsula Chamber Festival and was the featured artist on a chamber music series in Ottawa, Canada with the National Arts Orchestra of Canada. Ms Williams performed concerts with the Santa Fe Chamber Festival in the summer of 2002 and the 92nd Street Y Series in New York City in the fall of 2003. She is a founding member of the Chicago Chamber Musicians; a critically acclaimed chamber music ensemble which has commissioned and performed works for their Millennium concert series and the CCM's concert series. Gail is also an original member of the Summit Brass, an ensemble with whom she has made ten recordings.
Gail Williams is the horn professor at Northwestern University, where she has been on the faculty since 1989. She has served on the faculties of Northern Illinois University and DePaul University. Ms. Williams studied with John Covert at Ithaca College, and received a master's degree from Northwestern University. Her awards included Ithaca College's Young Distinguished Alumni Award and an honorary doctorate of music, also from Ithaca College. This past year at Northwestern University, Ms. Williams was given the honor of being selected to the honor roll of professors.
Program Notes for the Evening's Concert. (Requires Adobe Acrobat Reader (tm) which you can obtain free here).
Syracuse Symphony Home Page


---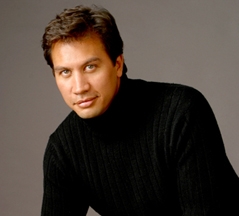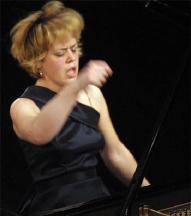 Sunday, 3 April 2005, 3:00 PM
Syracuse Symphony Orchestra
Daniel Hege
, Conductor
Olga Kern
, Piano
Charles Ives: The Unaswered Question
Sergei Rachmaninoff Piano: Concerto No. 2 in C minor, Op. 18
Piotr Ilyich Tchaikovsky: Symphony No. 6 in B minor, Op. 74, "Pathétique"
Every four years, the
Van Cliburn International Piano Competition
brings together approximately thirty young musicians from around the world to celebrate their gifts and compete for a wide variety of prizes, including generous cash awards and numerous concert engagements. The competition is a rigorous and comprehensive examination of every facet of each contestant's musicianship and technical proficiency. All competitors are heard in recital; twelve semifinalists play new works and performances of chamber music; and six finalists perform two concerti with the Fort Worth Symphony Orchestra and the Fort Worth Chamber Orchestra under the direction of a major international conductor. It is the task of the distinguished jury to ultimately select the medalists.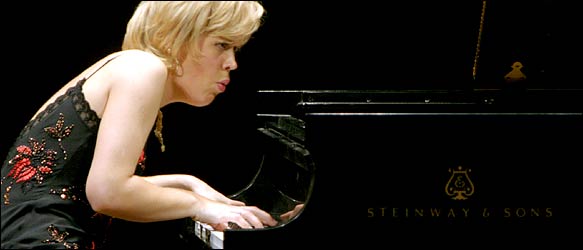 Olga Kern was named a gold medalist of the Eleventh Van Cliburn International Piano Competition on June 10, 2001, the first woman to have achieved this distinction since 1969. In addition to the medal, she was awarded two years of international concert engagements and career management, a compact disc recording of her award-winning Cliburn Competition performances for the
harmonia mundi
label.
Born into a family of musicians, Ms. Kern began studying piano at the age of five. She is a laureate of several international competitions, including the Hamamatsu, Ciani, and China Competitions, and has toured throughout her native Russia, Europe, and the United States, as well as in Japan, South Africa, and South Korea. She has performed in many of the world's most important venues, including the Great Hall of the Moscow Conservatory, Symphony Hall in Osaka, La Scala in Milan, and the Salle Cortot in Paris. The recipient of an honorary scholarship from the President of Russia in 1996, she is a regular soloist with the Moscow State Symphony and has also appeared with the Moscow Philharmonic, Russian National, China Symphony, Belgrade Philharmonic, Torino Symphony, and Johannesburg Philharmonic Orchestras. As a result of her success at the Cliburn Competition, Ms. Kern made her Boston Pops debut during the summer of 2001 and has toured throughout the United States and Europe during the extensively since the 2001-02 concert season. This will be her second visit to Geneva during this period.
Program Notes for the Evening's Concert. (Requires Adobe Acrobat Reader (tm) which you can obtain free here).
Syracuse Symphony Home Page


---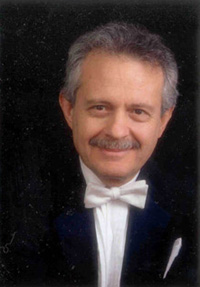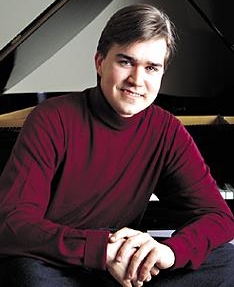 Friday, 29 April 2005, 8:15 PM
Rochester Philharmonic Orchestra
Jorge Mester
, Conductor
Paavali Jumppanen
, Piano
Zoltán Kodály: Galánta Dances
Béla Bartók: Piano Concerto No. 3
Johannes Brahms: Symphony No. 3 in F Major, Op. 90
Jorge Mester, one of the world's most dynamic conductors, has served as music director of The Pasadena Symphony since 1984 and during the 2003-04 season leads the orchestra in eight concerts. He is conductor laureate of the prestigious Aspen Music Festival, which he led as music director for 21 years, and will also assume the post of music director of the Naples Philharmonic Orchestra in Florida beginning with the 2004 season in addition to his work with The Pasadena Symphony.
In separate reviews the Los Angeles Times declared, "Mester is a master," called him "a virtuosic conductor," and said he is a conductor of "passionate vision." Indeed, throughout his career, Mester has brought excellence and prominence to each of the organizations he has led.
Notably, Mester's passion for conducting extends from the stage to the classroom. He served as director of the Juilliard School's Conducting Department during the early 1980s and, for the past few seasons, has been a guest conductor at the USC Thornton School of Music. Says Mester, "I love teaching. I hope to pay back the help which Leonard Bernstein, Gregor Piatigorski, William Schuman and Jean Morel gave me early in my career. I want to help others they way I was helped." Indeed, he has taught several generations of conductors, including James Conlon, Dennis Russell Davies, Andreas Delfs, JoAnn Falletta and John Nelson. In addition, he has mentored early in their careers such internationally acclaimed artists as Nadja Salerno-Sonnenberg, Midori, Renee Fleming, Cho-Liang Lin and Robert McDuffie.
Long considered an ardent champion of contemporary music, Mester, has given more than 70 world-premiere performances of works by such composers as Philip Glass, Peter Schickele, Michael Daughtery, Carl Ruggles, Joan Tower and George Tsontakis.
Finnish pianist Paavali Jumppanen won First Prize in the 2000 Young Concert Artists International Auditions, and four special prizes: the Bruce Hungerford Memorial Prize, the Maurice M. Clairmont Piano Prize, the Joseph Kalichstein Piano Prize, and the Pennsylvania Presenters' Prize, a thirteen-concert tour throughout the state. He is also the recipient of the first Miriam Horowitz Meckler Award, established by YCA alumna pianist Ruth Laredo.
In 2001, the Young Concert Artists Series presented Mr. Jumppanen's New York debut at the 92nd Street Y. The New York Times reported that his playing was "fresh and exciting," and that "he performs with immense power and an extraordinary range of colors." Mr. Jumppanen also debuted in the Young Concert Artists Series at the Kennedy Center in Washington, DC and at the Isabella Stewart Gardner Museum in Boston, and performed in New York at the Morgan Library and at Carnegie's Weill Recital Hall. In 2002, Mr. Jumppanen made his New York concerto debut with the New York Chamber Symphony conducted by Gerard Schwarz at Alice Tully Hall, and he has also performed as soloist in the U.S. with the symphonies of Pasadena, Flagstaff, Paducah and Fort Smith.
Performances this past season included tours in Australia as soloist with the Melbourne Symphony and the West Australian Symphony Orchestra, concerts in France, Italy, Germany and Norway with the Oslo Philharmonic, and an appearance with the Finnish Radio Symphony Orchestra. This season in the U.S., Mr. Jumppanen appears with Tulsa's Signature Symphony, returns to the Isabella Stewart Gardner Museum in Boston, where he will perform the complete Beethoven Violin Sonatas with violinist Corey Cerovsek, and gives recitals for the Classical Concert Series in North Carolina and the Weis Center for the Performing Arts in Lewisburg, PA.
Winner of First Prize in Finland's national Maj Lind Competition in Helsinki at the age of nineteen, Mr. Jumppanen has since performed as soloist with all of Finland's orchestras, including the Tapiola Sinfonietta, the Finnish Radio Symphony Orchestra and the Helsinki Philharmonic, with whom he has just appeared in a return engagement as soloist in the Liszt Piano Concerto No. 2. He has also performed with the Belgrade Philharmonic and with Switzerland's Basel Symphony Orchestra, played at the Kuhmo, Loviisa, Sibelius and Kitayushu Chamber Music Festivals in Finland, and appeared the famed La Roque d'Anthéron Festival in France. Beginning in 2004, Mr. Jumppanen will serve as Artistic Director for Finland's Lemi-Lappeenranta Music Festival.

Program Notes for the Evening's Concert
Rochester Philharmonic Orchestra Home Page