---
2007–2008 Schedule of Events
---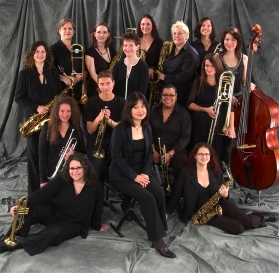 Friday, 21 September 2007, 8:15 PM
Sherrie Maricle & DIVA Jazz Orchestra

DIVA is a concert jazz orchestra steeped in the history of jazz but infused with the progressive harmonies of today. The band is based in New York City and plays contemporary, mainstream big band jazz composed and arranged by band members and renowned writers including Tommy Newsom, Ellen Rowe, Rich Shemaria, and Scott Whitfield. DIVA's unique sound is a result of their repertoire being composed expressly for the individual personalities of the musicians themselves. What audiences can expect to hear is powerful ensemble playing and creative soloists playing with all the spontaneity, originality and finesse of the jazz masters who have preceded them.
DIVA was founded by Stanley Kay, a former manager and relief drummer for the Buddy Rich Big Band. In 1990, Kay was conducting a band where Maricle was playing drums. Impressed by her skill, Kay wondered if there were other women musicians with a similar caliber of musicianship. A nationwide audition of players produced a core group of musicians who performed their first concert in March of 1993.
DIVA has performed in some of the world's most prestigious music venues, including Carnegie Hall, the John F. Kennedy Center for the Performing Arts, Lincoln Center, the Hollywood Bowl, the Blue Note, QE2 Jazz Cruise, Montreal and Ottawa, International Jazz Festivals, and Symphony Halls in St. Louis, Philadelphia and Cleveland.
Nancy Wilson, Joe Williams, Diane Schuur, DeeDee Bridgewater, Rosemary Clooney, Jack Jones, Clark Terry, Dr. Billy Taylor, Terry Gibbs, Tommy Newsom, and Randy Brecker have performed with DIVA in the United States and abroad. Television appearances include multiple features on CNN's Arts Break, and CBS Sunday Morning. Music critics all over the world have praised DIVA's 2002 release, Live in Concert. The band's other CDs include I Believe in You, Leave it to DIVA, and Something's Coming. Their newest release is TNT: A Tommy Newsom Tribute.
Geneva Concerts sponsored two outreach events with DIVA at Geneva Middle School. At the first event, DIVA played for the entire middle school and at the second they led several workshops for jazz band students from the Geneva Middle and High Schools. To learn more about this outreach, read the story World-Renowned Jazz Group Hits High Note In Geneva that appeared in the Finger Lakes Times.
DIVA Jazz Orchestra Home Page
Program Notes
for the Evening's Concert.
---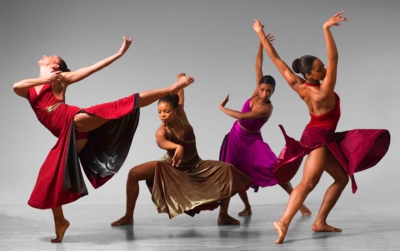 Saturday, 27 October 2007, 8:15 PM
The Philadelphia Dance Company
Philadanco!
Joan Myers Brown
, Founder, Executive Artistic Director
Photo: Lois Greenfield
The Philadelphia Dance Company (PHILADANCO) is celebrating 37 years of providing exceptional dance performances and training to its many communities throughout the US and abroad. Since its inception in 1970 The Philadelphia Dance Company (PHILADANCO) has had a significant impact on the dance world. As a cultural ambassador representing the Commonwealth of Pennsylvania and the City of Philadelphia, its artistic direction and renowned national and international guest choreographers have developed a reputation of producing a dance repertory with passion, power, skill and diversity. Over the 37 years, a stellar faculty (hand picked by Joan Myers Brown, Founder of PHILADANCO) has trained over 4,500 dancers in a comprehensive program achieving the highest level of technical skills in dance and performance. The unique blend of dance styles of PHILADANCO, and its roster of 50-60 concert performances and 45 residencies annually has made them one of the most sought after modern companies in the United States.
During the past year, PHILADANCO had the pleasure of performing at venues such as Kennedy Center in Washington, DC and The Joyce Theater in New York City and has just returned from a noteworthy tour, spending the entire month of March 2006 in Germany, Luxembourg and Italy.
More importantly, PHILADANCO believes in and continues to provide quality arts instruction to young people with authentic learning experiences that engage their minds, hearts, and bodies. And after 37 years, the PHILADANCO building continues to be an oasis in its community and a welcoming refuge for all since the neighbors feel good about it too.
Joan Myers Brown, Executive/Artistic Director. Ms. Brown is the founder of the Philadelphia Dance Company and The Philadelphia School of Dance Arts. She serves as honorary chairperson for the International Association of Blacks in Dance, an organization she established in 1991. She is also founder of the International Conference of Black Dance Companies. She is a Distinguished Visiting Professor at the University of the Arts, which bestowed upon her an honorary Doctorate of Fine Arts, and is a member of the dance faculty at Howard University in Washington, DC. Listed in Who's Who in America and described as an "innovator and communicator," Ms. Brown has made significant contributions to the national and international arts communities.
Joan Myers Brown has served a broad range of regional and national organizations, including NEFA's National Dance Project, the United States Information Agency, Arts America, the National Endowment for the Arts; the Arts Councils of Pennsylvania, New Jersey, Michigan, Nevada, and Ohio; the National Forum for Female Executives. Locally, she has been a part of the Greater Philadelphia Cultural Alliance, the Minority Arts Resource Council, the Philadelphia Mayor's Cultural Advisory Council, the Philadelphia Dance Alliance, The Women's Heritage Society, Dance/USA and the Coalition of African American Cultural Organizations, which she served as vice president. Brown's efforts for dance excellence are only part of her contribution to society and Philadelphia in particular. She speaks out, talks back and shows up.
Program Notes for the Evening's Concert.
PHILADANCO Home Page
---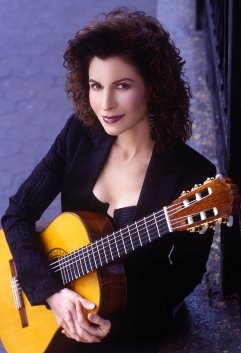 Friday, 8 February 2008, 8:15 PM
Rochester Philharmonic Orchestra
Jeff Tyzik
, Conductor
Sharon Isbin
, Guitar
Surinach: Feria Màgica Overture
Tyzik, arr.: Three Pieces for Guitar & Orchestra (premiere)
Ginestera: Estancia
Rodrigo: Concierto de Aranjuez
Santoro: Symphony No. 4, "Da paz"
Sharon Isbin
: Acclaimed for her extraordinary lyricism, technique and versatility, GRAMMY Award winner Sharon Isbin has been hailed as "the pre-eminent guitarist of our time." She has won the Madrid, Toronto, and Munich Competitions, and
Guitar Player's
"Best Classical Guitarist" award, Ms. Isbin gives sold-out performances throughout the world in the greatest halls including New York's Carnegie and Avery Fisher Halls, Boston's Symphony Hall, Washington D.C.'s Kennedy Center, London's Barbican and Wigmore Hall, Amsterdam's Concertgebouw, Vienna's Musikverein, Munich's Herkulessaal, and Madrid's Teatro Real. A frequent guest on NPR's
All Things Considered
and Garrison Keillor's
A Prairie Home Companion
, she has been profiled on
CBS Sunday
and was a featured guest on Showtime Television's hit series
The L Word
. She has been featured in periodicals from
People
to
Elle
,
The Wall Street Journal
, and
The New York Times
, as well as on the cover of more than 35 magazines.
Ms. Isbin's catalogue includes over 25 recordings, from Baroque, Spanish/Latin and 20th Century to crossover and jazz-fusion. She received a 2005 Latin GRAMMY nomination for "Best Classical Album" and a 2006 GLAAD Award nomination for "Outstanding Music Artist" for her Billboard Top 10 Classical disc with the New York Philharmonic of Joaquin Rodrigo's Concierto de Aranjuez and concerti by Mexican composer Manuel Ponce and Brazilian Heitor Villa-Lobos. In their June '04 concerts, Ms. Isbin became the Philharmonic's first guitar soloist in over 26 years. Her Dreams of a World soared onto top classical Billboard charts, edging out The 3 Tenors, and earned her a 2001 GRAMMY, making her the first classical guitarist to receive the award in 28 years. Her recording of concerti written for her by Rouse and Tan Dun received a 2002 GRAMMY and Germany's Echo Klassik Award.
Ms. Isbin has appeared as soloist with over 160 orchestras, including the New York Philharmonic, National Symphony, Baltimore, Houston, Dallas, Pittsburgh, Minnesota, an St. Louis Symphonies. She has also appeared with the London Symphony, Orchestre National de France, Scottish Chamber, Zurich and Lausanne Chamber Orchestras, BBC Scottish, Gulbenkian, Prague, Milan, Mexico City, Jerusalem, and Tokyo Symphonies.
Sharon Isbin began her studies at nine in Italy, and later studied with Andrès Segovia, Oscar Ghiglia, and Rosalyn Tureck. She received a B.A. and Masters from Yale.
As one of America's foremost pops conductors, Jeff Tyzik is known for his innovative programming, unique arrangements and his engaging rapport with audiences of all ages. 2007-08 marks his fourteenth season as Principal Pops Conductor of the Rochester Philharmonic Orchestra. Jeff Tyzik's pops programming is a reflection of his musical diversity. He has crafted many programs that include the greatest music from jazz, classical, movie soundtrack, opera, Broadway, Irish, Latin, gospel, rock, R & B and big band/swing idioms.
Mr. Tyzik's compositions and arrangements have been recorded by the London Symphony Orchestra, the RPO, the Summit Brass, Erich Kunzel and the Cincinnati Pops Orchestra, the Vancouver Symphony, and Doc Severinsen with the Royal Philharmonic Orchestra in London. In December 2006, the RPO released A Holiday Celebration, featuring more than a dozen tracks of the best live performances from the RPO's 2005 Gala Holiday Pops concerts, conducted by Jeff Tyzik.
Jeff Tyzik holds Bachelor of Music and Master of Music degrees from the Eastman School of Music. He lives in Rochester with his wife Jill.
Program Notes for the Evening's Concert.
Rochester Philharmonic Orchestra Home Page
Sharon Isbin Home Page
---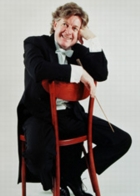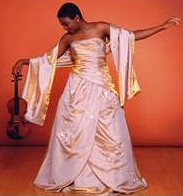 Sunday, 2 March 2008, 3:00 PM
Syracuse Symphony Orchestra
James Judd
, Conductor
Tai Murray
, Violin
Berlioz: Roman Carnival Overture
Mendelssohn: Violin Concerto in E minor, Op. 64
Elgar: Symphony No. 1 in A-flat Major, Op. 55
Judd Photo: New Zealand Symphony Orchestra
Now 25, violinist Tai Murray has burst on the scene with an energy and artistry that spans rarely-heard concerti to a broad array of chamber music. Recent seasons have included appearances with the orchestras of Chicago, Atlanta, Indianapolis, St. Louis, Dallas, Charlotte, Oakland, Sacramento and others throughout North America. She was invited to perform the Dvoák Violin Concerto with the Juilliard Orchestra in August 2005 in Berlin. She has toured three times with the Musicians from Marlboro, is in her second year as a member of Chamber Music Society of Lincoln Center II and performs regularly with the Ritz Chamber Players. Her recital appearances included New York, Chicago, Philadelphia, Baltimore, and Louisville.
Since making her debut with the Chicago Symphony at age eight, Tai Murray has performed extensively as a soloist with orchestras across the United States and Europe. She has performed at the Los Angeles Hollywood Bowl, Salt Lake City's Abravanel Hall, and Chicago's Mandel Hall. Concerto performances include appearances with the Baltimore, Chicago, Kansas City, Los Angeles, Utah and Washington, D.C., Symphonies. Murray was the only solo artist invited by the Chicago Symphony to perform in the Rotunda of Chicago's Symphony Center during its Inaugural Festival. She holds an Artist Diploma in music performance from Indiana University and is currently studying with a full scholarship at the Juilliard School under Joel Smirnoff.
James Judd Music Director of the New Zealand Symphony Orchestra, British-born conductor James Judd is also the Principal Guest Conductor of the Orchestre National de Lille in France. In the 2005-2006 season he made a triumphant return to the Haydn Festival Eisenstadt with the Austro-Hungarian Haydn Orchestra, and made two more returns in his highly successful collaboration with the Baltimore Symphony Orchestra. A frequent guest with the BBC National Orchestra of Wales, he also conducted with the Royal Liverpool Philharmonic, the London Philharmonic Orchestra, the Residentie Orchestra (The Hague), the Ensemble Orchestral de Paris, the New Japan Philharmonic, the Singapore Symphony, and the Seoul Philharmonic.
He continues to conduct all of the major British ensembles, including the London Philharmonic, the Royal Philharmonic Orchestra, the Hallé Orchestra, the BBC National Orchestra of Wales, and the English Chamber Orchestra. He was co-founder of the Chamber Orchestra of Europe, which he has led on tours throughout the United States, the Far East and Europe.
In North and South America he is a frequent and much-admired guest conductor, having appeared with the orchestras of St. Louis, Montreal, Cincinnatti, Pittsburgh, Seattle, Indianapolis, Utah, Vancouver, and Ottawa.
Program Notes for the Evening's Concert.
Syracuse Symphony Home Page
---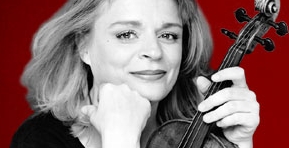 Friday, 11 April 2008, 8:15 PM
Angèle Dubeau & La Pietà
Saint-Saëns: Dance Macabre
Françaix: L'Heure du Berger
Glick: The Old Toronto Klezmer Suite
Hsaïshi: Summer
Morricone: Lady Caliph, Buona Fortuna Jack
De Falla: El Amor Brujo
Brahms, Liszt: Hongroiseries
Enescu: First Romanian Rhapsody
Heidrich: Happy Birthday Variations
Violinist Angèle Dubeau is a graduate and First Prize Winner of the Montreal Conservatory of Music. She pursued her studies at the Juilliard School of Music and, from 1981 to 1984, left for Romania to work with Stefan Gheorghiu. Since then, Angèle Dubeau has become one of Canada's most prominent artists. Winner of several important international competitions, she has performed in prestigious concert halls in more than 25 countries. Her numerous recordings have been acclaimed by both the public and the press, and she is one of the few Canadian soloists in classical music to have a certified Gold record for 50,000 albums sold in one year.
In 1997, Angèle Dubeau created La Pietà, a string ensemble, bringing together some of the finest women musicians in Canada. Under her direction, the group has quickly acquired a solid reputation. From the start, the ensemble performed in some of Canada's most prestigious venues, as well as on both the Radio-Canada and CBC television networks. Dubeau and La Pietà play numerous concerts in Canada, including several for women's charities. Angèle Dubeau & La Pietà have played concerts throughout Canada, the United-States, China, and Japan.
Their first six CDs, released on the Analekta label, were the best-selling records of their categories in Canada. Music critic François Tousignant of Le Devoir wrote: "...precision of attack, quality of ensemble playing, and energy... they magically recall the glorious era of I Solisti di Zagreb... spirit and presence... The delight with which these women musicians play is contagious, and it shows as much on their faces as in what one hears..."
Angèle Dubeau became a Knight of the Ordre National du Québec in 2004, a Member of the Order of Canada in July 1996, and in the same year, the Société Saint-Jean-Baptiste awarded her the Calixa-Lavallée prize for her exceptional contribution to classical music. Angèle Dubeau plays on the "Des Rosiers" Stradivarius violin (1733).
Program Notes for the Evening's Concert.
Angèle Dubeau & La Pietà Home Page