---
2008–2009 Schedule of Events
---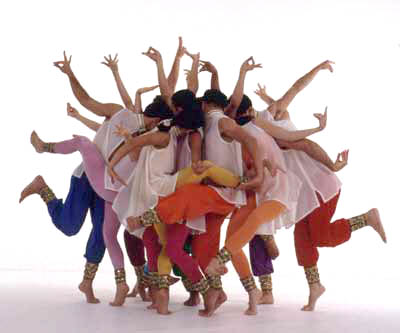 Saturday, 20 September 2008, 8:15 PM
Paul Taylor Dance Company
Images
Changes
Promethean Fire
"The American spirit soars whenever Taylor's dancers dance."
The San Francisco Chronicle
Photo: Howard Schatz
This project is supported in part by an award from the National Endowment for the Arts.


The Paul Taylor Dance Company, established in 1954, has long been one of the world's most highly respected dance troupes. It has represented the United States at arts festivals in more than 40 countries and has toured extensively under the aegis of the U.S. Department of State. In 1997 the Company toured throughout India in celebration of the 50th Anniversary of that nation's independence. The Company's 1999 engagement in Chile was named the Best International Dance Event of the year by the country's Art Critic's Circle. In the summer of 2001 the Company toured in the People's Republic of China and performed in six cities, four of which had never seen American modern dance before. In the spring of 2003 the Company mounted an award-winning four-week, seven-city tour of the United Kingdom. While continuing to garner international acclaim, the Paul Taylor Dance Company performs more than half of each touring season in cities throughout the United States.
Beginning with its first television appearance for the "Dance in America" series in 1978, the Company has appeared on PBS in nine different programs, including the 1991 Emmy Awardwinning Speaking in Tongues and The Wrecker's Ball - including Company B, Funny Papers, and A Field of Grass - which was nominated for an Emmy Award in 1997. In 1999 the PBS American Masters series aired Dancemaker, Matthew Diamond's award-winning, Oscar-nominated film, hailed by Time as "perhaps the best dance documentary ever."
Paul Taylor has been a dominant force in dance for four decades. Born in Pennsylvania, Mr. Taylor spent his early years in and around Washington, D.C. He studied painting at Syracuse University before coming to New York City to begin his dance career. From 1955 until 1962, he was a soloist with the Martha Graham Dance Company while at the same time presenting his own work in concerts in both the United States and Europe. In 1959, he danced with the New York City Ballet as guest artist in George Balanchine's Episodes.
Mr. Taylor was awarded a National Medal of Arts by President Clinton in 1993 at a ceremony at the White House. In 1992, he received an Emmy Award for Speaking in Tongues, produced by WNET/New York in 1991. He was a recipient of the 1992 Kennedy Center Honors "for enhancing the lives of people around the world and enriching the culture of our nation." In November of 1995, he received the Algur H. Meadows Award for Excellence in the Arts for work that "endures as some of the most innovative and important the world has ever seen." In 1995, he was named one of 50 prominent Americans honored in recognition of their outstanding achievement by the Library of Congress' Office of Scholarly Programs.
Paul Taylor was elected to knighthood by the French government as Chevalier de l'Ordre des Arts et des Lettres in 1969 and has since been elevated to the ranks of Officier (1984) and Commandeur (1990). In January of 2000, he was awarded France's highest honor, the prestigious Legion d'Honneur, for exceptional contributions to French culture. Awards for lifetime achievement include a MacArthur Foundation Fellowship.
Program Notes for the Evening's Concert.
Paul Taylor Dance Company Home Page
---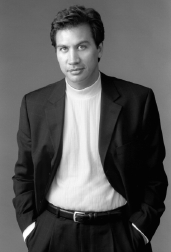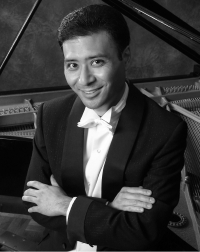 Sunday, 19 October 2008, 3:00 PM
Syracuse Symphony Orchestra
Daniel Hege
, Conductor
Jon Nakamatsu
, Piano
Johnson: Victory Stride
Ives: Symphony No.2
Rachmaninoff: Piano Concerto No.3
One of the most sought-after pianists of his generation, Jon Nakamatsu is a frequent concerto soloist, chamber musician, recording artist and solo recitalist throughout the United States, Europe and Japan. He enjoys a continuously expanding career based on a deeply probing and illuminating musicality as well as a quietly charismatic performing style.
Initially brought to global attention in June 1997 by being named Gold Medalist of the Tenth Van Cliburn International Piano Competition, Jon Nakamatsu subsequently appeared as soloist with the Los Angeles Philharmonic at the Hollywood Bowl and the Boston Pops at Tanglewood, as well as with, among many others, the orchestras of Buffalo, Charlotte, Dallas, Detroit, New World, Portland, Rochester, San Francisco, Syracuse, and Utah. Abroad, he has been heard as soloist with Italy's famed Orchestra del Maggio Musicale Fiorentino, Berlin's Deutsches Symphonie-Orchester, and Carl Philipp Emanuel Bach Chamber Orchestra, and Japan's Tokyo Symphony Orchestra.
Named Debut Artist of the Year (1998) by NPR's "Performance Today," Jon Nakamatsu has been profiled by "CBS Sunday Morning" and Reader's Digest magazine, and is featured in "Playing with Fire," a documentary on the Tenth Van Cliburn International Piano Competition, aired nationwide on PBS. Earlier, in 1995, he was named the First Prize winner of Miami's Fifth United States Chopin Piano Competition. He records exclusively for harmonia mundi usa, which has released six CDs, including an orchestral album containing performances of Rachmaninoff's Third Piano Concerto and Rhapsody on a Theme of Paganini, with Christopher Seaman and the Rochester Philharmonic Orchestra, as well as albums devoted to the music of Brahms, Chopin, Foss, Liszt and Wölfl. Mr. Nakamatsu's most recent release is his second orchestral album with the Rochester Philharmonic Orchestra, featuring Gershwin's Concerto in F and Rhapsody in Blue, conducted by Jeff Tyzik. His most recent release is his first CD with clarinetist Jon Manasse, a recording of the Brahms Clarinet Sonatas. Nakamatsu and Manasse serve as Artistic Directors of the Cape Cod Chamber Music Festival.
Currently in his ninth season as Music Director of the Syracuse Symphony Orchestra, Daniel Hege is widely recognized as one of America's finest young conductors, earning critical acclaim for his fresh interpretations of the standard repertoire and for his commitment to creative programming.
Following a nationwide search, Mr. Hege was named Music Director of the Syracuse Symphony Orchestra in April, 1999. In June 2001, he completed a five year tenure with the Baltimore Symphony where he held the titles of Assistant, Associate and Resident Conductor and led the orchestra in subscription, family and run-out concerts. Mr. Hege has also served as Music Director of the Haddonfield (NJ) Symphony, Associate Conductor of the Kansas City Symphony, Music Director of the Encore Chamber Orchestra in Chicago and Music Director of the Chicago Youth Symphony where he was twice honored by the American Symphony Orchestra League for innovative programming.
Daniel Hege has guest conducted the Houston, Detroit, Seattle, Indianapolis, Oregon, Colorado, San Diego, Columbus and Phoenix symphonies; the Rochester, Buffalo and Calgary Philharmonics; and at the Grand Teton and Aspen Music Festivals. International engagements include leading the Singapore Symphony and the St. Petersburg Symphony at the Winter Nights Festival. In addition, Mr. Hege regularly works with the Syracuse Opera where he has conducted productions of Madame Butterfly, La Traviata, Tosca and Don Pasquale.
In April 2003, Mr. Hege led the Syracuse Symphony in a critically acclaimed concert at a sold-out Carnegie Hall. He has also made two recordings - a disc with the Baltimore Symphony and the Morgan State University Choir featuring works by Adolphus Hailstork and a CD with the Syracuse Symphony with works by Verdi, Barber, Debussy, Respighi and James Johnson.
Concert Preview From the Syracuse Post-Standard
Program Notes for the Evening's Concert.
Syracuse Symphony Home Page
---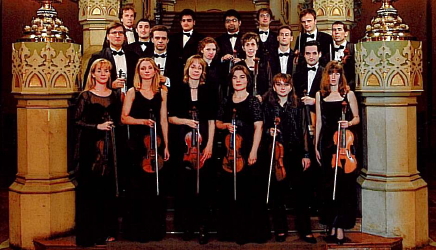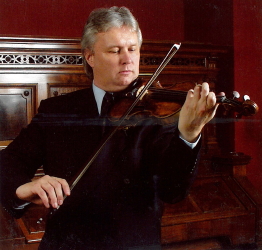 Thursday, 20 November 2008, 8:15 PM
Hungarian Virtuosi Orchestra
Miklós Szenthelyi, Conductor
Vivaldi: Concerto for Violin and Cello in B Majo
Liszt: Mephisto Waltz
Liszt: Hungarian Rhapsody No.2
Tchaikovsky: Souvenir de Florence
The Hungarian Virtuosi Chamber Orchestra was formed in 1988 by the violinist Miklós Szenthelyi. Highly acclaimed worldwide, the orchestra is based in Budapest and is comprised largely of graduates and faculty of the esteemed Liszt Academy of Music. Frequent appearances include Concertgebouw in Amsterdam, the famed Vigadó and Parliament in Budapest, and they are often heard on the music programs of the Hungarian Radio & Television network. Recent touring performances include Germany, the Netherlands, Italy, Spain, Portugal, Japan, South Korea, France, and the United States. The Hungarian Virtuosi may be heard on for the Hungaroton, Naxos, and PROdigital labels, the latter featuring French flautist Jean-Pierre Rampal.
The ensemble is under the leadership of Artistic Director and violin soloist, Miklós Szenthelyi. A Dean Professor at the Liszt Academy, he is winner of several competitions, has eleven recordings, and was awarded the coveted Liszt Prize in 1985. He was also the recipient of the Star of Hungary Commander Order in 1994.
Program Notes for the Evening's Concert.
---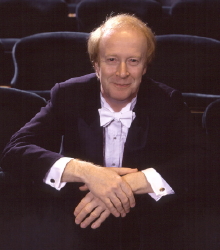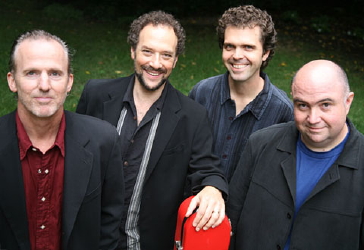 Friday, 13 February 2009, 8:15 PM
Rochester Philharmonic Orchestra
Christopher Seaman
, Conductor
Los Angeles Guitar Quartet
Vaughan Williams: Fantasia on Greensleeves
Assad: Interchange for Guitar Quartet and Orchestra
Bizet: Selections from Carmen
Prokofiev: Suite from Romeo and Juliet
Celebrating their twenty-seventh year on the concert stage, the members of the GRAMMY-winning Los Angeles Guitar Quartet continue to set the standard for expression and virtuosity among guitar ensembles, while perennially redefining themselves in their musical explorations. With over a dozen recordings over the past two decades, they have established themselves as masters of the classics, as well as the creators of the unique syntheses of world-music and contemporary styles that have made the "LAGQ-sound" a favorite around the world. Their first recording for Telarc International, LAGQ: Latin, was nominated for a GRAMMY for Best Classical Crossover Recording in 2003, while the second, LAGQ's Guitar Heroes, won a GRAMMY in this category in 2005. Their subsequent Telarc release, Spin, gained wide critical acclaim, as did their recent live concert DVD for Mel Bay Records, LAGQ Live at the Sheldon.
With the release of their newest Telarc recording, LAGQ Brazil in September 2007, the group finds itself writing a new chapter in its history. The three founding members John Dearman, William Kanengiser and Scott Tennant welcome long-time friend Matthew Greif into the group, and this recording showcases his agile musicianship, cultured sound, and mature jazz skills. In its new incarnation, the tradition of refined chamber-music making and category-defying innovation that made LAGQ famous is sure to continue to thrive for years to come. The genesis of the Brazilian-flavored CD began with a touring collaboration of LAGQ with the brilliant Brazilian singer Luciana Souza in 2006; with over a dozen concerts, including one at Carnegie Hall in New York, this joint project yielded a number of newly composed and specially arranged pieces exploring the music of Brazil.
LAGQ is already actively planning its next recording project, a Bach celebration, and is working to expand its repertoire with new concerto commissions by Sergio Assad and Carlos Rafael Rivera. Their active touring schedule takes them throughout North America, Europe, and Asia, and their restless curiosity will continue to inspire them to explore new musical directions for the guitar quartet.
Christopher Seaman is in his elevnth season as Music Director of the Rochester Philharmonic. He has been credited for broadening the orchestra's audience base and, in particular, for his creation of the lecture series "Symphony 101", which recently won an ASCAP award. Previously, he served a ten-year tenure as music director of the Naples Philharmonic in Florida, and prior to that as conductor-in-residence of the Baltimore Symphony Orchestra (1987-1998). Sought-after as a guest conductor throughout the world, Mr. Seaman has appeared with orchestras in North America, Israel, Eastern Europe, the Far East, Australia, and New Zealand, as well as in his native Great Britain, where he has served as Principal Conductor of the BBC Scottish Symphony and the Northern Sinfonia.
As a guest conductor in North America, Mr. Seaman has had recent engagements with the symphony orchestras of Phoenix, Utah, Houston, and San Francisco. He has previously conducted the orchestras of Atlanta, Cincinnati, Colorado, Columbus, Detroit, Minnesota, Pittsburgh, Saint Louis, and Toronto, among others. Abroad, Mr. Seaman appears regularly with such orchestras as the Rotterdam Philharmonic, the Netherlands Radio Philharmonic, the Czech Philharmonic, the Bergen Philharmonic, and the Prague Radio Symphony Orchestra. He has also enjoyed, in recent seasons, return visits to Australia where he has conducted the Sydney and Melbourne symphony orchestras. In the United Kingdom, Mr. Seaman has worked with all of the London orchestras, the City of Birmingham Symphony, the Bournemouth Symphony, the Royal Liverpool Philharmonic, the Royal Scottish National Orchestra, the Ulster Orchestra, and the various BBC orchestras.
His recordings include performances with the Royal Philharmonic and the Philharmonia Orchestra. Recently, he has released a recording of works by Tchaikovsky with pianist Olga Kern, as well as a recording of works by Rachmaninov with Jon Nakamatsu, both for the Harmonia Mundi label. Both of these recordings were performed with the Rochester Philharmonic Orchestra and received considerable critical acclaim.
Program Notes for the Evening's Concert.
Rochester Philharmonic Orchestra Home Page
---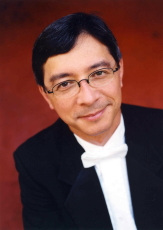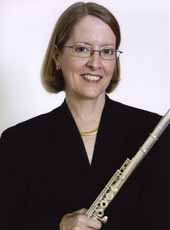 Thursday, 2 April 2009, 8:15 PM
Syracuse Symphony Orchestra
Peter Bay
, Conductor
Deborah Coble, Flute
Elgar: Cockaigne, Op. 40 (In London Town)
Jacob: Concerto for Flute
Holst: The Planets
Peter Bay will begin his eleventh season as Music Director of the Austin Symphony in September 2008. He also continues his long tenure as Music Director of the Britt Classical Festival in Oregon.
Before assuming his present position with the Austin Symphony, Bay was Music Director of the Erie Philharmonic and was Principal Guest Conductor of the Rochester Philharmonic, an orchestra with which he had held earlier positions such as Assistant Conductor, Conductor-in-Residence, and Music Advisor. In addition, he served as the RPO's Artistic Director of Educational Programming for three years. During his tenure in Rochester, Bay conducted over 300 performances with the orchestra, among which was the world premiere of Aaron Copland's suite from the film The Heiress and the United States premiere of Benjamin Britten's Concerto Movement for Clarinet and Orchestra. His recording, Voices features the percussion ensemble NEXUS with the RPO and is available on the Nexus label.
During his four-year tenure as Resident Conductor of the St. Paul Chamber Orchestra, Bay conducted the ensemble in numerous subscription concerts and led them on tours through eight states. A special Copland 90th Birthday Concert, broadcast live over National Public Radio, brought him national attention. Other positions previously held by Mr. Bay have included Music Director of the Annapolis Symphony, and Music Advisor and Principal Conductor of the Breckenridge Music Festival in Colorado. He also held four different conducting posts with the Richmond Symphony in Virginia, with whom he gave the United States premiere of Benjamin Britten's The Sword in the Stone which was then recorded for Opus One Records. In addition to his work at the Britt Festival, his summer festival appearances have included the Ravinia Festival, Grant Park Music Festival (IL), Aspen (CO), OK Mozart (OK), Sewanee (TN), and Skaneateles (NY).
As a guest conductor, Bay has appeared with a number of orchestras, including the Baltimore Symphony, National Symphony, St. Louis Symphony, Buffalo Philharmonic, Dallas Symphony, Minnesota Orchestra, Syracuse Symphony, Rhode Island Philharmonic, Colorado Symphony, New Mexico Symphony, Virginia Symphony, and the Honolulu Symphony.
Now in her fifteenth season as principal flute, Deborah Coble began her tenure with the Syracuse Symphony Orchestra as second flute/assistant first after joining the orchestra in 1975. She also performs with the SSO's Wind Quintet and Baroque Ensemble.
In 1974 she received a fellowship to the renowned Tanglewood Music Center, summer home of the Boston Symphony, and won a C.D. Jackson prize. Her teachers have included Eugene Orner, Dr. Everett Timm, John Hicks, and Doriot Anthony Dwyer, retired principal flutist of the Boston Symphony. A former member of the Baton Rouge Symphony, she has performed as a substitute with the New York Philharmonic and Chautauqua Symphony Orchestra.
She has appeared as a soloist with the SSO on several occasions, performing the Lowell Liebermann Concerto, the J.S. Bach Suite in B minor, and the Carl Reinecke Concerto.
She has been an adjunct professor of flute at Syracuse University's Setnor School of Music since 1999. She is married to SSO Principal Trumpet George Coble. They reside in Liverpool.
Program Notes for the Evening's Concert.
Syracuse Symphony Home Page