---
2010–2011 Schedule of Events
---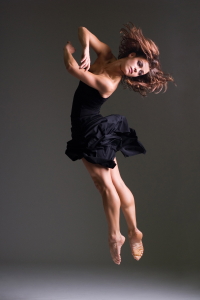 Friday, 10 September 2010, 7:30 PM
Koresh Dance Company
Ronen Koresh
, Artistic Director
ev•o•lu•tion
This project is supported in part by an award from Pennsylvania Performing Arts on Tour (PennPAT) program.


Renowned for their powerful stage presence, Philadelphia's Koresh Dance Company has been hailed as a vital force to both national and international stages. Koresh Dance Company was founded in 1991 by Israeli born choreographer and artistic director Ronen Koresh and his brother, executive director Alon Koresh. The company presents repertory which includes over 60 works by Ronen Koresh as well as work by guest choreographers including Robert Battle, Donald Byrd and Itzik Galili. Koresh is an artist who draws on his life experiences and the culture that surrounds him to create new work. From these life experiences, he has developed a repertory of work that ranges from explosive and passionate to intimate and restrained.
Koresh Dance Company has received local, national and international recognition. Dance Magazine, the nation's premiere dance publication, featured the company in its August 2004 issue, with an in-depth article. In February 2008, the company was also featured in an article about the thriving dance community in Philadelphia. Ronen Koresh is a multi-year recipient of choreography fellowships from The Pew Charitable Trusts, Pennsylvania Council on the Arts and the Philadelphia College of Performing Arts.
Koresh Dance Company's critically acclaimed work attracts increasing audiences across the nation and abroad. Their reputation for passion and outstanding technique results in sold-out performances. The company presents annual home season concerts at the Suzanne Roberts Theatre, home of Philadelphia Theatre Company. In addition, the company performs at various national festivals and performing arts centers and tours internationally to destinations including Turkey, South Korea and Israel. This is their second time visiting Geneva.
Program Notes
for the Evening's Concert.
Koresh Dance Company Home Page
---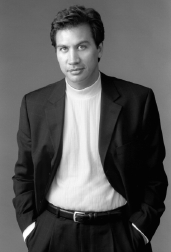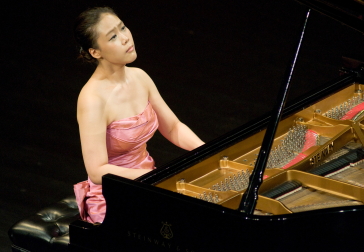 Thursday, 7 October 2010, 7:30 PM
Syracuse Symphony Orchestra
Daniel Hege
, Conductor
Yeol Eum Son
, Piano
Glinka: Overture to Russlan and Ludmilla
Mozart: Piano Concerto No. 21
Prokofiev: Classical Symphony
R. Strauss: Till Eulenspiegel's Merry Pranks
Pianist Yeol Eum Son (pronounced Your-arm Son) was awarded both the Silver Medal and the Steven De Groote Memorial Award for the Best Performance of Chamber Music in the Thirteenth Van Cliburn International Piano Competition held in Fort Worth, Texas in June 2009. Already acknowledged as an artist to watch in Asia, Miss Son adds European and North American recognition and performance opportunities to her portfolio through her affiliation with the Van Cliburn Foundation.
A native of South Korea's Kangwon Province, the pianist drew international attention when she appeared as a soloist performing Beethoven's Concerto No. 2 in B flat Major, Op. 19 with the New York Philharmonic conducted by Lorin Maazel on the Philharmonic's historic tour to Seoul in 2008. She had previously performed Liszt Concerto No 1. in E-flat Major with the Philharmonic under Maestro Maazel in Daejeon and Tokyo in 2004.
In the 2009-2010 season she appeared with orchestras across America in wide-ranging repertoire. She performed the Rachmaninoff Variations on a Theme by Paganini with the Pacific Symphony conducted by Music Director Carl St. Clair, as well as Rachmaninoff's Concerto No.3 in D Minor for Piano and Orchestra, Op. 30 with the Utah Symphony conducted by Music Director Keith Lockhart. She performed Beethoven's Piano Concerto No. 4 in G Major, Op. 58 at the Ventura Music Festival in California. Conductor Christopher Seaman will led Miss Son and the Columbus Symphony Orchestra in a performance of Mozart's Concerto K. 488 in Ohio and she appears with the Hudson Valley Philharmonic in New York performing Saint-Saëns's Concerto No. 2. Yeol Eum Son will perform Gershwin's popular Rhapsody in Blue with the Midland Symphony Orchestra in Michigan, and in a gala performance featuring all three Thirteenth Van Cliburn International Piano Competition medalists with the National Symphony Orchestra of Santo Domingo to close her concert season. Previous international orchestral appearances include performances with the Israel, Czech and Warsaw Philharmonic orchestras, the NHK Symphony and Tokyo Philharmonic orchestras in Japan, and Germany's Baden-Baden Symphony Orchestra.
Recognized as a sensitive collaborator, Son also toured with the Albers Trio during the 2009-2010 season. The ensemble has been engaged to perform Dvořák's Piano Quartet in E-flat Major, Op. 87 on the Santa Fe Concert Association, Corpus Christi Chamber Music Society and New York's Rockefeller University Series.
A recording of her performance of Barber's Sonata for Piano Op.26 and Debussy's Preludes Book 1 was recently released on the harmonia mundi label. This recording, which reflects her prize-winning Van Cliburn Competition performance, joins her debut cd of the complete Chopin Etudes which was released in 2004 on the Universal Music label as part of Yeol Eum Son's growing discography. Her complete competition performances are available for streaming at www.cliburn.tv.
Celebrating his eleveth season as Music Director of the Syracuse Symphony Orchestra in 2010-2011, Daniel Hege is recognized as one of America's finest young conductors, and has earned acclaim for his fresh interpretations of the standard repertoire and his commitment to creative programming. In 2001, he finished a five-year tenure as Resident Conductor of the Baltimore Symphony Orchestra, where he worked closely with David Zinman and Yuri Temirkanov. Beginning with the 2010-2011 concert season, Mr. Hege will also serve as Music Director of the Wichita Symphony Orchestra.
Mr. Hege first attracted attention when he won the post of Music Director and Principal Conductor of the Young Musicians' Foundation Debut Orchestra in Los Angeles. He served, concurrently, as Director of Instrumental Music at the Orange County High School of the Arts and Assistant Conductor of the Pacific Symphony Orchestra. Since then, he has served as Music Director of the Chicago Youth Symphony Orchestra (where he was twice honored by the American Symphony Orchestra League for innovative programming), Encore Chamber Orchestra of Chicago, Haddonfield Symphony Orchestra in New Jersey, and Newton Mid-Kansas Symphony Orchestra.
Daniel Hege has guest conducted the Houston, Detroit, Seattle, Indianapolis, Oregon, Colorado, San Diego, Columbus and Phoenix symphonies; the Rochester, Buffalo and Calgary Philharmonics; and at the Grand Teton and Aspen Music Festivals. International engagements include leading the Singapore Symphony and the St. Petersburg Symphony at the Winter Nights Festival. In addition, Mr. Hege regularly works with the Syracuse Opera where he has conducted productions of Madame Butterfly, La Traviata, Tosca and Don Pasquale.
Under Mr. Hege's artistic leadership, the Syracuse Symphony Orchestra performed a critically acclaimed concert to a sold-out audience at Carnegie Hall in April 2003. He oversaw the release of the SSO's live Classics Concert CD in 2000, the Holiday Pops release just two years later, and the SSO's July 2006 release, Big Band Bash.
Watch Yeol Eum Son perform the Bach-Petri Cantata No. 9 Sheep May Safely Graze during the 13th Van Cliburn International Piano Competition on June 4, 2009.
Program Notes for the Evening's Concert.
Syracuse Symphony Home Page
---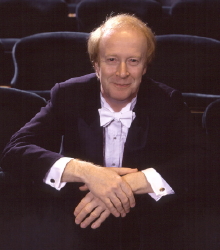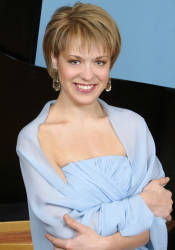 Friday, 19 November 2010, 7:30 PM
Rochester Philharmonic Orchestra
Christopher Seaman
, Conductor
Olga Kern
, Piano
Dvořák: Carnival Overture
Rachmaninoff: Piano Concerto No. 2
Sibelius: Symphony No. 1
Photo of Ms. Kern: Christian Steiner

With her vivid stage presence, passionately confident musicianship and extraordinary technique, the striking young Russian pianist Olga Kern has continued to captivate fans and critics alike. Across the United States each season, she is in demand for re-engagements (this is her third appearance in Geneva) and new appearances, and is quickly being recognized worldwide.
As a result of her performance of Sergei Rachmaninoff's Piano Concerto No. 3 at the 11th Van Cliburn International Piano Competition in 2001, Olga Kern won the Gold Medal and became the first woman to achieve this distinction in over 30 years. Olga's second triumph came in New York City on May 4, 2004, with a highly acclaimed New York City recital debut at Carnegie's Zankel Hall. In an unprecedented turn of events eleven days later, on May 12, 2004, Olga Kern gave a recital in Isaac Stern Auditorium at the invitation of Carnegie Hall.
In recent seasons, Olga Kern has performed all of the Rachmaninoff concerti in residence with the Colorado Symphony and performed in several special event concerts with famed soprano Kathleen Battle. Summer 2009 brought Olga Kern her fourth re-engagement at the Ravinia Festival for Rachmaninoff's Piano Concerto No. 1 with the Chicago Symphony under the baton of James Conlon. She performed additionally at the Brevard Music Festival, International Keyboard Institute, and gave a recital and master classes in New York City.
In the 2008-2009 Season, Olga made her debut with the Detroit Symphony Orchestra under Leonard Slatkin and presented recitals in Washington, DC; La Jolla, CA and Fort Worth, TX, among other cities. After a critically acclaimed 35 city tour of the U.S. in spring 2007 with the National Philharmonic of Russia and Vladimir Spivakov, Ms. Kern opened the 2007-2008 season as guest soloist with the Colorado Symphony, performed with the Nashville Symphony and made her debut with the Vancouver Symphony. In May of 2008, Olga Kern toured North America with Maestro Vladimir Spivakov and the world renowned Moscow Virtuosi, presenting concerts in Boston; Chicago; New York; Philadelphia; Seattle; Washington, DC; and Toronto.
Olga Kern made her London debut with the Royal Philharmonic Orchestra in November 2006 playing Shostakovich Piano Concerto No. 1 with Leonard Slatkin conducting. She returned to London in August of 2008 for her Proms Debut playing Rachmaninoff's Rhapsody on a Theme of Paganini with the Royal Philharmonic Orchestra and Leonard Slatkin conducting. Recent European appearances have included a tour of Austria and Switzerland with the Warsaw Philharmonic, a tour of Germany with the Czech Philharmonic, performances with the orchestras of Copenhagen and Lyon, and recitals in Milan, Hamburg and Luxemburg. She recently made her Canadian debut with the National Arts Centre Orchestra and conductor Pinchas Zukerman in summer 2007, and she made her debut with the Taipei Symphony in June of 2006.
Ms. Kern records exclusively with Harmonia Mundi, and her highly anticipated Chopin Sonatas CD will be released in 2010.
Christopher Seaman is in his thirteenth season as Music Director of the Rochester Philharmonic. He has been credited for broadening the orchestra's audience base and, in particular, for his creation of the lecture series "Symphony 101", which recently won an ASCAP award. Previously, he served a ten-year tenure as music director of the Naples Philharmonic in Florida, and prior to that as conductor-in-residence of the Baltimore Symphony Orchestra (1987-1998). Sought-after as a guest conductor throughout the world, Mr. Seaman has appeared with orchestras in North America, Israel, Eastern Europe, the Far East, Australia, and New Zealand, as well as in his native Great Britain, where he has served as Principal Conductor of the BBC Scottish Symphony and the Northern Sinfonia.
As a guest conductor in North America, Mr. Seaman has had recent engagements with the symphony orchestras of Phoenix, Utah, Houston, and San Francisco. He has previously conducted the orchestras of Atlanta, Cincinnati, Colorado, Columbus, Detroit, Minnesota, Pittsburgh, Saint Louis, and Toronto, among others. Abroad, Mr. Seaman appears regularly with such orchestras as the Rotterdam Philharmonic, the Netherlands Radio Philharmonic, the Czech Philharmonic, the Bergen Philharmonic, and the Prague Radio Symphony Orchestra. He has also enjoyed, in recent seasons, return visits to Australia where he has conducted the Sydney and Melbourne symphony orchestras. In the United Kingdom, Mr. Seaman has worked with all of the London orchestras, the City of Birmingham Symphony, the Bournemouth Symphony, the Royal Liverpool Philharmonic, the Royal Scottish National Orchestra, the Ulster Orchestra, and the various BBC orchestras.
His recordings include performances with the Royal Philharmonic and the Philharmonia Orchestra. Recently, he has released a recording of works by Tchaikovsky with pianist Olga Kern, as well as a recording of works by Rachmaninov with Jon Nakamatsu, both for the Harmonia Mundi label. Both of these recordings were performed with the Rochester Philharmonic Orchestra and received considerable critical acclaim.
Program Notes for the Evening's Concert.
Watch Olga Kern play Rachmaninoff's Piano Concerto No. 3.
The Rochester Philharmonic Home Page
---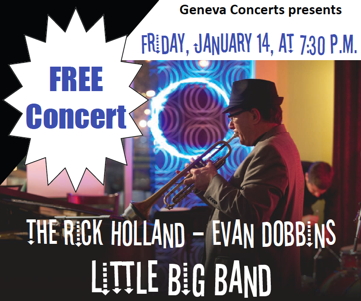 Friday, 14 January 2011, 7:30 PM
Geneva High School Auditorium
Carter Road, Geneva
The Rick Holland - Evan Dobbins
Little Big Band
Geneva Concerts presents a free concert by the Rick Holland - Evan Dobbins Little Big Band on Friday, January 14, 2011 at 7:30 p.m. The performance will take place at Geneva High School Auditorium, Carter Road, Geneva.
The Big Bands of the 1930s and 40s Swing Era often had 17 or more musicians: saxophones, trumpets, trombones, piano, bass, drums, and vocalists. Big Bands toured widely, led by the biggest names in 20th century music: Count Basie, Benny Goodman, Artie Shaw, Cab Calloway, Dizzie Gillespie, Duke Ellington, Louis Armstrong. The list is a who's-who of jazz. The Big Band style of playing, with pieces pre-arranged on sheet music with intervals indicated for improvised solos, is a familiar standard that continues today.
The Rick Holland - Evan Dobbins Little Big Band is a Rochester band that carries on this tradition. Comprised of faculty and alumni from the Eastman School of Music, the Little Big Band is composed of ten musicians and one female vocalist who replicate the sound of the Era of Swing.
Geneva Concerts is bringing the Little Big Band to Geneva as part of their outreach efforts in the Geneva schools. The Little Big Band will perform in an assembly for the Geneva Middle School, followed by a masterclass/workshop for middle school and high school band members. Selected student band members will prepare a piece to be performed with the Little Big Band at the evening concert, which is open to the public.
---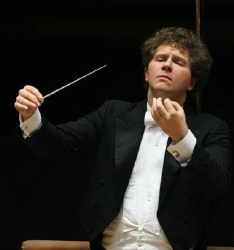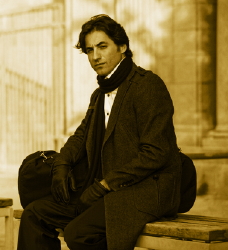 Sunday, 6 March 2011, 7:30 PM
Cape Town Philharmonic Orchestra
Martin Panteleev
, Conductor
Philippe Quint
, Violin
Bernstein: Overture to Candide
Tchaikovsky: Violin Concerto
Rimsky-Korsakov: Scheherazade
Two time Grammy award nominee Violinist Philippe Quint has emerged in recent years as one of the few young soloists to combine a remarkable degree of lyricism, poetry and impeccable virtuosity. His stage persona is evocative of a 19th century Romantic performer: "With his lanky build and shoulder-length dark hair, he looked like a modern day Paganini - and he played like one, too." (Cincinnatti Enquirer). He plays on a 1723 "Ex-Kiesewetter" Antonio Stradivari violin on loan to him from Clement and Karen Arrison through the generous efforts of the Stradivari Society.
Highlights of his 2010-2011 season include debuts with Berlin Komische Oper Orchestra for their New Year's Concerts with Carl St. Clair, Chicago Symphony with David Afham, San Diego Symphony with Bromwell Tovey, a tour of Germany with Nordwestdeutsche Symphoniker and an 18 concert US tour with Cape Town Philharmonic.
Mr. Quint is a Founder and Artistic Director of the Mineria Chamber Music Festival in Mexico City and recently formed a Quint Quintet, a group dedicated to exploring music of Astor Piazzolla and Argentine Tango.
Mr. Quint's extended award winning Naxos discography includes a large variety of rediscovered treasures along with popular works from standard repertoire. His debut album of the William Schuman's Violin Concerto (2001) and his latest recording of the Korngold's Violin Concerto (2009) that jumped to top 20 in Billboard's Classical Chart during its first week of release were each nominated for two Grammy Awards including ''Best Instrumental Soloist with Orchestra'' categories.
The Cape Town Philharmonic Orchestra, South Africa's "orchestra for all seasons," is a multi-functional orchestra delivering a world-class musical experience to all communities of the Western Cape. The CPO is one of only three full-time professional symphony orchestras in South Africa and continues a long and proud history of symphonic music since Cape Town's first symphony orchestra was formed in 1914.
Apart from traditional symphony concerts presented in the historic City Hall with its excellent acoustics for orchestral music, the CPO also performs at the Artscape Theatre Centre with Cape Town Opera and Cape Town City Ballet for their seasons. Further engagements all add up to a staggering 160 performances a year.
The Cape Town Philharmonic Orchestra is arguably the most versatile and active orchestra on the continent of Africa and contributes handsomely in making Cape Town part of a global culture. In this spirit the CPO presented the first Cape Town International Music Festival in November and December 2006. This festival has become an annual event, attracting first rate musicians from all over the world as well as providing opportunities to South Africa's foremost artists.
Martin Panteleev's debut as conductor with the Sofia Philharmonic Orchestra was a highly acclaimed performance of G. Mahler's Symphony No.1 in 2004. Since 2006 he is regular guest-conductor and from October 2009 he is conductor of the Sofia Philharmonic Orchestra.
Martin Panteleev has worked as conductor with such orchestras as: Concertgebouw Chamber Orchestra, Schleswig-Holstein Symphony Orchestra, Orquesta Symphonica di Lecce, Netherlands Symphony Orchestra, Philharmonia of the Nations, Ukraine National Symphony Orchestra. He has toured with the Sofia Festival Orchestra in the Netherlands and the USA. In October 2007 Martin Panteleev performed at the opening of the season of the Berliner Symphoniker Symphoniker at the Berlin Philharmonic Hall. During 2010 Martin Panteleev will perform with the Sofia Philharmonic Orchestra at the International music festival in Klagenfurt, Austria. Tour invitations for the current season include the Berliner Symphoniker and the Cape Town Philharmonic orchestra.
Program Notes for the Evening's Concert.
Cape Town Philharmonic U.S. Tour Brochure.
Cape Town Philharmonic Orchestra Home Page
Read a review of the concert in Geneva here.
---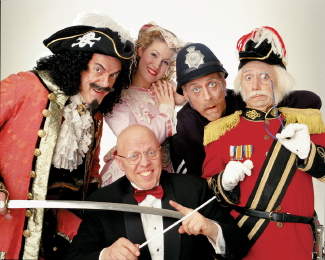 Saturday, 9 April 2011, 7:30 PM
New York Gilbert & Sullivan Players
Albert Begeret
, Artistic Director
The Pirates of Penzance
This New York Gilbert & Sullivan Players production is your chance to get carried away by Pirates. Join the band of swashbuckling buccaneers, bumbling British bobbies, frolicsome Victorian maidens, and the delightfully dotty "model of a modern Major-General" for a rollicking romp over the rocky coast of Cornwall. This exuberant musical theater masterpiece, directed and conducted by Albert Bergeret with choreography by Bill Fabris, is performed in its original format. The rich sounds of full orchestra, chorus, and legitimate vocal soloists resonate with classic elegance and power while the company's vibrancy, energy and contemporary sense of humor keep the show alive and exciting to a modern audience. The Pirates of Penzance - they'll steal your heart away!
The Pirates of Penzance, or The Slave of Duty, was first performed at the Fifth Avenue Theatre in New York City on December 31, 1879. It was the only Gilbert & Sullivan operetta to have its world premiere in the United States and it has remained popular both here and throughout the English speaking world ever since. Gilbert's wit (always incisive but never vicious or dated) and Sullivan's memorable score (including the original tune from which "Hail, hail the gang's all here" is drawn) are among the most valuable treasures of musical theater history.
Patter songs are a Gilbert & Sullivan trademark and Pirates features the most famous of them all, "I am the very model of a modern Major-General." This jaunty tune has been cleverly set to different words countless times (Tom Lehrer's element song a notable example) and used in commercials to sell everything from Campbells soup to Handi-wipes, cars, newspapers and other items. Pirates also contains some of Gilbert's most famous lyrics such as the often used quotation "a policeman's lot is not a happy one" from the act two lament of the diffident "men in blue." Other highlights of the show include "For I am a Pirate King," the pirates' "Here's a first rate opportunity," the policemen's "When the foeman bears his steel" and Mabel's show stopping coloratura aria "Poor wand'ring one".
The plot of Pirates centers on the dilemma of young Frederic who, as a child, was mistakenly apprenticed to the pirates until his twenty first birthday. Since he was born in leap year on February 29, he is honor bound to remain a pirate until the distant date of 1940, despite his moral objection to piracy. Helping Frederic to deal with this unusual predicament are the brash Pirate King, Ruth - the pirate maid-of-all-work, romantic Mabel, and the delightfully stuffy Major-General Stanley.
Starting as a street theatre, with a budget of $35 for Xeroxing, New York Gilbert & Sullivan Players (NYGASP) has become America's pre-eminent professional Gilbert & Sullivan repertory company. It all began when a group of friends, mostly alumni of the Barnard College Gilbert & Sullivan Society at Columbia University in New York, thought that it was time to create a new outlet for their burgeoning ranks and leave the college group to the undergraduates. One of these alums was Albert Bergeret, Founder and Artistic Director/General Manager of NYGASP, who participated in 20 productions over 10 years with the Barnard group. But Mr. Bergeret's goal from the outset was a professional repertory company, not another community theater group. His vision has shaped the Company's mission ever since.
Program Notes for the Evening's Concert.
NYGASP Home Page
The Pirates of Penzance performed NYGASP on YouTube.
Listen to excerpts of The Pirates of Penzance performed NYGASP.