---
---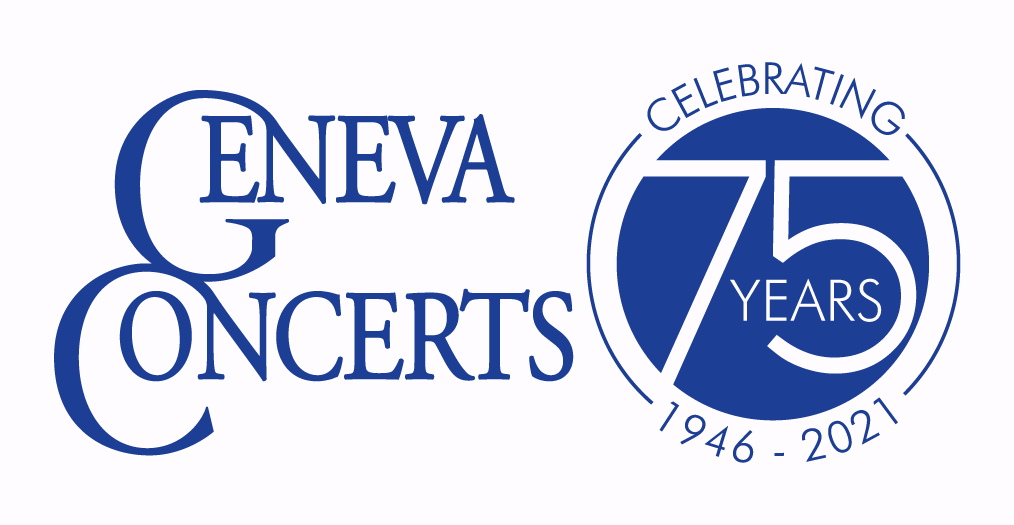 ---
---
Outreach During the 2016–2017 Season

Friday, September 23, 2016
Garth Fagan Dance Outreach
Geneva Middle School and
Geneva High School
Masterclass at Hobart and William Smith Colleges
Garth Fagan performance of "Touring Jubilee 1924" at Geneva Middle School. Photo courtesy of Joan McClure.


Garth Fagan Dance performed lecture demonstration assemblies for Geneva High School and Geneva Middle School students on Friday, September 23, 2016 in the school's auditorium. Three segments from the company's evening performance were featured in each assembly: "Prelude," "No Evidence Of Failure," and "Touring Jubilee 1924." A member of the company introduced each and gave details about the music and the choreography.

Garth Fagan's choice of music captured and held the students attention. The recordings included a solo jazz piano piece by Abdullah Ibrahim, a percussion composition by renowned jazz drummer Max Roach, a piece in the Calypso style by Jamaican pianist Monty Alexander, a piano/violin duet by Brahms, and an early jazz piece featuring the Preservation Hall Jazz Band.

The combination of the unique engaging music and the artistically impressive dancing held the students' attention. Besides the obvious inspiration of the art of dance, a great benefit of these assemblies was that the students were exposed to interesting music that they otherwise would not hear.

In between the two school lecture demonstrations, the company performed a master class for Hobart and William Smith dance students in the Gearan Center. The master class was taught just as all Fagan classes are with a ritualistic warm-up, one that has been done in the same way for decades. Sade Bully lead the class and gave insights into the company's class, rehearsal, and audition processes, as well as the value of learning the technique in this way.

Students were deeply invested and intuitive and patient with themselves as they experienced this codified warm-up. This continued as the students moved through the space, making split-second decisions while following along rather than being given explicit instructions. The students' ability to listen, follow, adapt, make mistakes, and reroute themselves impressed everyone.

When Mr. Fagan entered the room near the end of class to observe the students were in full swing. Once class wrapped up, he took a moment to introduce himself and to remark on the abundant beauty in the room, both the dancers and the new dance space at the Colleges!

All in all it was a great day and the college students felt both challenged and simultaneously that they were able to speak the language of dance with degrees of familiarity.

Participation Summary: 660 students and 80 adults at Geneva High School, 448 students and 80 adults at Geneva Middle School, and 17 Hobart and William Smith students and one adult at the masterclass.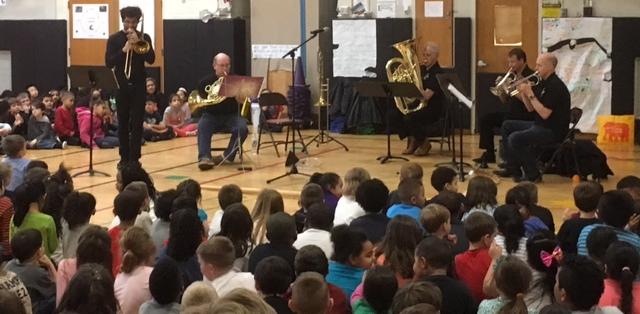 Monday, March 27, 2017
River City Brass Quintet Outreach
North and West Street Elementary Schools
and St. Francis-St. Stephen's Elementary School
The River City Brass Quintet at West Street School. Photo courtesy of Tom McClure.


The River City Brass quintet (two cornets, French horn, trombone, and tuba) performed assembly concerts in three Geneva Schools on Monday, March 27, 2017. Those included North Street Elementary (grades 3–5) from 9:15 to 10:00 am followed by St. Francis-St. Stephen's (grades K–8) from 12:30 to 1:15, and West Street (K–2) from 1:45 to 2:25. Students at all three events were treated to age-appropriate, professional-level performances by this world-class brass ensemble.

All concerts followed the same general format. They began with a brief classical piece played without any introductory comment. Then Dr. James Gourlay, the quintet's leader and tuba player, explained how sound is produced on brass instruments by buzzing the lips. He then demonstrated how basic sounds can be produced by a brass mouthpiece plugged into a long plastic tube, with a funnel attached to the end to amplify the sound. He looked like a character out of a Dr. Seuss book during the demonstration. Other basic music concepts were covered such as shorter tubing producing higher pitches and longer tubing lower pitches. He demonstrated these concepts on an alpine horn as well (see below) that fascinated the students.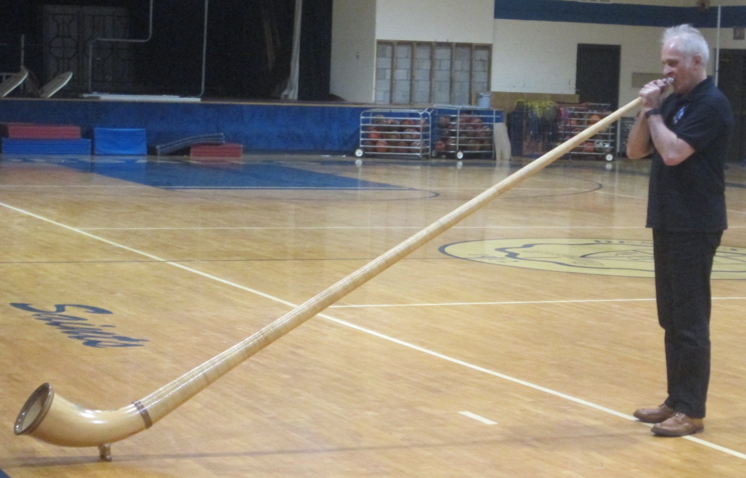 Next, each of the musicians gave a short explanation describing what made their particular instruments unique and how they worked. Each explanation was immediately followed by the ensemble performing a brief piece featuring that instrument.
These assemblies included inspiring classical compositions such as Die Bankelsangerlieder and Trumpet Voluntary (often heard at graduations). With young audience in mind the program also included tunes familiar to the students such as the theme from the children's cartoon, "Thomas the Train" and the movie "Ghostbusters." For variety, they also performed the jazz piece Sugar Blues that featured the use of a mute with the solo cornet, and a Spanish piece, El Gato Montes.
The grand finale of each concert was a very entertaining composition entitled Instant Concert. The piece lasted only three minutes, but included a series of excerpts from common tunes or famous classical themes, changing quickly from one to the next. The students enjoyed this and reacted to the tunes they recognized.
The students at all three events were attentive and well-behaved, even the youngest at West Street School. This is one of goals of these assemblies, to give young students the experience of sitting still and listening to beautiful music. The concerts were very effective, educational, and musically inspiring.
Participation Summary: 478 students and 62 adults at North Street School, 448 students; 117 students and 18 adults at St. Francis-St.Stephen's, 498 students and 66 adults at North Street School.
---
Outreach During the 2015–2016 Season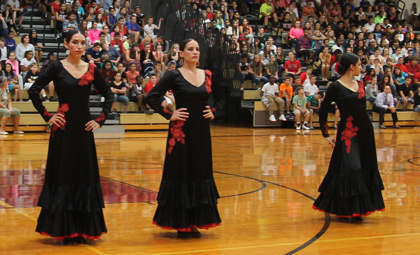 Friday, September 18, 2015
Ensemble Español Lecture-Demonstrations
Geneva Public Middle School and
Geneva Public High School
Masterclass at Hobart and William Smith Colleges


Ensemble Español performance at Geneva Middle School. Photo courtesy of Joan McClure.



On Friday, September 18, 2015, Ensemble Español presented two lecture-demonstrations one for all Geneva Middle School students and staff and the second for all Geneva High School students and staff. great variety of music and dances of Spain. Dancers performed in singles, duets, and groups in pieces ranging from medieval times in Iberia to twenty-first century Spain. Dancers were authentically costumed with shawls, fans, and toreador capes, appropriate to the three styles of Spanish dance: clásico español, folkloric (regional), and Flamenco.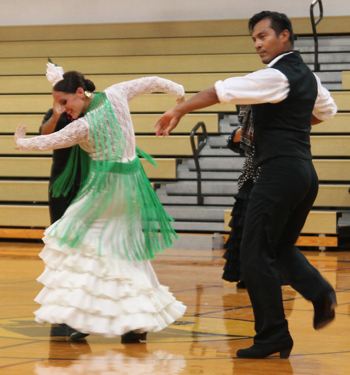 The dancers were accompanied in part by a Flamenco guitarist/vocalist and a percussionist. The musical instruments that accompany Flamenco were described and demonstrated, in particular the castanets. With one pair in each hand, the dancers click out patterns that support the movement of their dance. Flamenco castanets are pitched unevenly, with one pair lower in tonality than the other. The higher pair, held in the dominant hand, is called "hembra" (female), while the lower pair, held in the other hand, is called "macho" (male), and the clicking patterns vary to support the dance. Hand-clapping ("palmas") patterns were also demonstrated and discussed. The Spanish-speaking members of the audience seemed particularly engaged, but all the students were responsive and captivated by the performance.
Friday afternoon, Ensemble Español led a master class for dance students at Hobart and William Smith Colleges. During the class they taught both traditional Flamenco dance and Folklorico. It was a lot of fun and a beautiful blend of large/complex movement, cultural contexting, and musical information. The teachers were a wealth of information and were beautiful demonstrators of the technique and artistry of traditional Spanish dances.
Participation Summary: 1190 students and 171 faculty and staff at the school lec-dems; 15 students and 1 adult at the masterclass.
---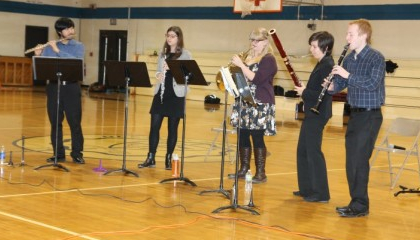 Tuesday, October 20, 2015
Eclectet Lecture-Demonstrations
North Street Elementary School,
St. Francis-St. Stephens Elementary School, and
West Street Elementary and Head Start


Ensemble Español performance at North School. Photos courtesy of Joan McClure.



The Eclectet Woodwind Quintet performed assembly concerts on Tuesday, October 20, 2015, in three Geneva schools, North Street Elementary (grades 3, 4, and 5), St. Francis-St. Stephen's Elementary School (grades K through 8), and West Street Elementary (grades K, 1, 2, and Headstart). The Eclectet wind quintet was formed in Fall 2012 at the Eastman School of Music by students Sho Kato (flute), Jillian Honn (oboe), Sammy Lesnick (clarinet), Ivy Ringel (bassoon), and Thea Humphries (horn). All five musicians displayed impressive prowess on their instruments. The cohesiveness of the ensemble was superb, which made for an engaging and inspiring program.

The opening piece, "Umoja" by Valerie Coleman, served to get and keep the attention of the students. Each musician made a short demonstration of how his or her instrument is played, what makes it different from others, and then performed short examples of melodies from classical music written for that instrument.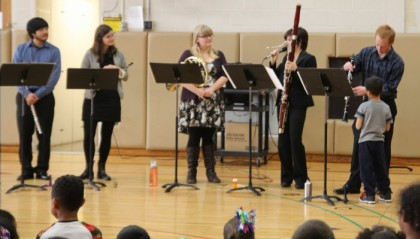 Next, in Berio's "Opus Number Zoo," which included a narration of a story about a fox and a chicken, the musicians' explanation of the meaning of several short musical excerpts, helped the students to visualize the story being played out in the music.
With Theodor Blumer's "Quintet for Winds," asking the students to vote on two options for what a section of the composition depicted, was an effective way of keeping the young students engaged in the music.
Even the very modern composition, a movement from Gyorgy Ligeti's "Ten Pieces for Woodwind Quintet," was exciting and held the student's attention. Paquito D'Rivera's "Aires Tropicales" concluded each performance perfectly with a style that showed that woodwind quintets can sound "cool."
Participation Summary: 1180 students and 123 faculty and staff total at the three school school concerts.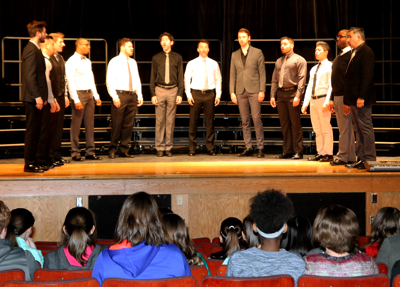 Thursday, April 7, 2016
Chanticleer Master Class
Geneva High School and
Middle School Choruses


Chanticleer at Geneva High School. Photo courtesy of Joan McClure.



On Thursday, April 7, 2016, the twelve members of the Grammy Award-winning a cappella choral ensemble Chanticleer held a master class with the Geneva High School Varsity Singers in the Geneva High School auditorium. The program began with Chanticleer performing one selection from the repertoire they were to sing that night in their concert at the Smith Opera House. This was a dynamic performance that impressed the high school singers with Chanticleer's world-class talent.

Next, the Varsity Singers, under the direction of Marni Kerr, sang two of the selections they had prepared to use in an upcoming choral festival in Boston. The Chanticleer singers, listening from the auditorium seats below, had copies of the music being sung. Many of them spoke afterwards, complimenting the high school singers over all, but also making very effective performance improving suggestions. These suggestions included concepts such as sectional dynamic balance, deep breathing to sustain phasing, understanding the meaning of the text and singing to project that meaning, more positive facial expressions, singing with confidence to entertain the audience, stressing important words, and holding the choral folders lower so as not to block the sound.

Participation Summary: 29 Varsity Singers. Also attending the event were 47 members of the Geneva High School Concert Chorus, and 50 members of the Geneva Middle School Chorus who observed and benefitted from the experience. Total: 126 students and 7 adults.
---