---
2012–2013 Schedule of Events
---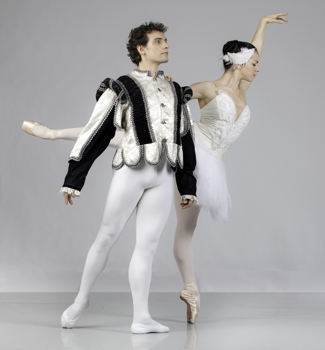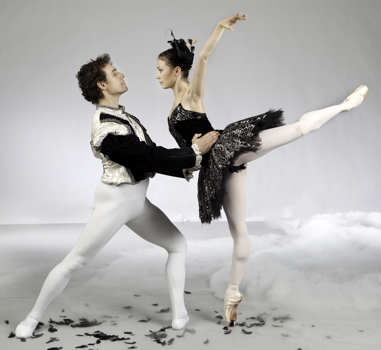 Saturday, 13 October 2012, 7:30 PM
Ballet Jörgen
Bengt Jörgen
, Artistic Director
Swan Lake
Photo Credit: Cylla von Tiedman.
To celebrate its 25th Anniversary, Ballet Jörgen Canada is launching the world's most renowned Classical Ballet in a major new production; Swan Lake. Dramatic and timeless, this production showcases the extraordinary beauty of ballet in its purest form.
In Swan Lake, Bengt Jörgen, one of Canada's most distinguished classical ballet choreographers, returns to his roots with this new production of grandeur, passion and hope. "This is a work that has inspired me since I was a little boy, when I first performed as a Jester in Natalia Conus' Bolshoi version of Swan Lake. It is a most magical ballet and one that I have longed to bring to life for some time now. Every step and every beat inspires. I want people everywhere to have a chance to see, experience and be touched by this most extraordinary ofall ballets."
At the heart of Swan Lake, is a story of true love, the union of two souls and the ultimate sacrifice to be set free. With a cast of 24 dancers, Ballet Jorgen Canada's Swan Lake will be one of the largest ballet productions gracing Canadian stages from coast-to-coast.
Bengt Jörgen is the current Artistic Director Producer of Ballet Jörgen Canada and George Brown Dance. He is a winner of the Clifford E. Lee Choreography Award and has created over 30 ballets for numerous ballet and opera companies including the National Ballet of Canada, The Royal Winnipeg Ballet, the American Ballet Studio Company, the Canadian Opera Company, Opera Hamilton and the Hong Kong Ballet.
His critically acclaimed version of Romeo & Juliet led to the development of Coppélia, an international co-production between the Hong Kong Ballet and Ballet Jörgen Canada that will rotate between the two companies for a ten year period.
Born in Stockholm, Sweden, Bengt Jörgen is a graduate of the Royal Swedish Ballet School. He moved to Canada to further his studies at the National Ballet School of Canada, and from 1982-1985 he was a member of the National Ballet of Canada where he began to choreograph for the company's choreographic workshops.
In 1987 he co-founded Ballet Jörgen Canada, with real-life partner Susan Bodie.
His commitment to creating original work coupled with his demonstrated choreographic and artistic vision continues to lead his company, school and work to local, national and international acclaim.
Ballet Jörgen Canada Home Page
Program Notes for the Evening's Concert.
---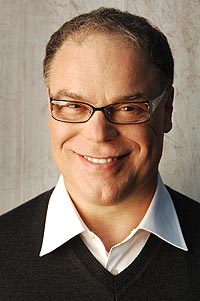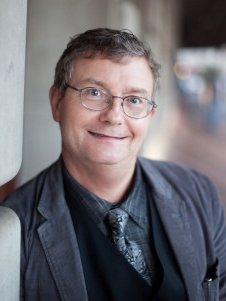 Friday, 9 November 2012, 7:30 PM
Rochester Philharmonic Orchestra
Jeff Tyzik
, RPO Principal Pops Conductor
Kenneth Grant
, RPO Principal Clarinet
Michael Daugherty: Route 66
Jeff Tyzik: Images Musical Impressions of an Art Gallery
Aaron Copland: Clarinet Concerto
Leonard Bernstein: On the Waterfront Suite
Grammy Award winner Jeff Tyzik is recognized as one of America's most innovative pops conductors. Described by the Rochester Democrat & Chronicle as "among the best pops conductors in America," Tyzik is known for his brilliant arrangements, original programming, and engaging rapport with audiences of all ages. Now in his 17th season as Principal Pops Conductor of the Rochester Philharmonic Orchestra, Tyzik also currently serves as Principal Pops Conductor of the Oregon Symphony and the Vancouver Symphony Orchestra.
In his seventeen years with the Rochester Philharmonic Orchestra (RPO), Tyzik has developed an incredible relationship with devoted Rochester audiences who appreciate his creative pops programming. Over the course of his tenure, he has written over 160 works for the orchestra. A consummate musician, Tyzik is so appreciated in Rochester that the RPO has taken the unusual step of inviting their principal pops conductor to appear as a guest conductor in the orchestra's classical subscription series calendar on a regular basis. On his classical series concerts, Tyzik has performed works by some of the greatest American composers to critical acclaim. He has also been commissioned to compose original works for orchestra, including a Trombone Concerto, which was funded by a grant from the National Endowment of the Arts and subsequently performed at Carnegie Hall, and a Timpani Concerto, commissioned by the RPO, was premiered in January 2010. Tyzik lead the world premiere of his original work New York Cityscapes with the Royal Scottish National Orchestra in June 2010. In May 2007, the Harmonia Mundi label released his recording of works by Gershwin with pianist Jon Nakamatsu and the RPO which stayed in the Top 10 on the Billboard classical chart for over 3 months. Alex Ross, music critic for The New Yorker, called it "one of the snappiest Gershwin discs in years".
As an accomplished composer and arranger, Tyzik has had his compositions recorded by ensembles including the London Symphony Orchestra, the Rochester Philharmonic Orchestra, and the Summit Brass, and his arrangements have been recorded by groups including Erich Kunzel and the Cincinnati Pops Orchestra, the RPO, the Vancouver Symphony Orchestra, and Doc Severinsen with the Royal Philharmonic Orchestra in London. He has also produced and composed theme music for many of the major television networks, including ABC, NBC, HBO, and Cinemax, and released six of his own albums on Capitol, Polygram and Amherst Records.
Committed to performing music of all genres, Tyzik has collaborated with such diverse artists as Tony Bennett, Art Garfunkel, Dawn Upshaw, Marilyn Horne, Arturo Sandoval, The Chieftains, Mark O'Connor, Doc Severinsen, John Pizzarelli, Billy Taylor and Lou Rawls, and has created original programs that include the greatest music from jazz and classical to Motown and swing.
A Buffalo native, Kenneth Grant received his education at the Eastman School of Music. He joined the RPO in 1987 as Principal Clarinet after almost 15 years in the same position with the Columbus Symphony. In 1990, Mr. Grant toured Europe with the Cleveland Orchestra as Assistant Principal Clarinet. In 1994, he won critical acclaim in Japan as soloist with the Eastman Wind Ensemble on the Mozart Clarinet Concerto. In addition to performing, Mr. Grant is Associate Professor of Clarinet at the Eastman School of Music.
Program Notes for the Evening's Concert.
The Rochester Philharmonic Home Page
---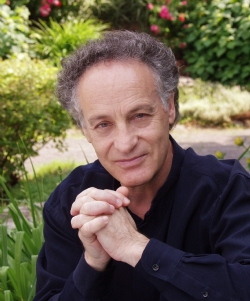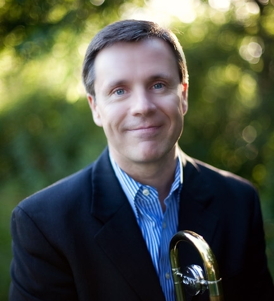 Friday, 25 January 2013, 7:30 PM
Rochester Philharmonic Orchestra
Yoav Talmi
, Guest Conductor
Mark Kellogg
, RPO Principal Trombone
Jennifer Higdon: Machine
Ludwig van Beethoven: Symphony No. 1
Lars-Erik Larsson: Concertino For Trombone
W.A. Mozart: Symphony No. 40
Well known and celebrated on both sides of the Atlantic Ocean, Yoav Talmi is Principal Guest Conductor of the Israel Chamber Orchestra in Tel Aviv and Conductor Emeritus of the Quebec Symphony. He also serves as Head of the Conducting Department at the University of Tel Aviv's Buchmann-Mehta School of Music. In the past, he has served as Chief Conductor of the Hamburg Symphony, Principal Guest Conductor of the Munich Philharmonic, Music Director of the San Diego Symphony, Music Director of the Arnhem Philharmonic (Netherlands), and Music Director of both the Israel Chamber Orchestra and the New Israeli Opera.
Born in Israel, Yoav Talmi is a graduate of the Rubin Academy of Music in Tel Aviv and The Juilliard School in New York, where he earned degrees in both composition and conducting with grants from the America Israel Cultural Foundation (AICF). He was a recipient of the Koussevitzky Memorial Conducting Prize at the Tanglewood Festival (1969) and won the Rupert Conductor's Competition in London (1973).
In 2009, Yoav Talmi was named Officer of the National Order of Quebec, the most prestigious honor in French Canada. In 2008, he was awarded the Frank Pelleg Prize of the Israeli Cultural Ministry, for his high level of artistic achievement through many years of activity. In the same year, he received the Quebec-City Medal, honoring his special contribution to the city's 400th anniversary celebrations. Yoav Talmi holds an Honorary Doctorate from the Laval University in Quebec, Canada.
Mark Kellogg is Associate Professor of Trombone, Euphonium, and Brass Chamber Music at the Eastman School of Music. A faculty member since 1991, Mr. Kellogg teaches trombone, euphonium, alto trombone, and jazz trombone, and coordinates the brass chamber music program. An active performer, he also holds the position of Principal Trombone of the Rochester Philharmonic Orchestra. Throughout his career he has embraced a wide variety of performing roles, from jazz soloist to chamber musician to orchestral performer.
After receiving his undergraduate training and Performer's Certificate from the Eastman School, where he studies with John Marcellus and Cherry Beauregard, Mr. Kellogg performed with the San Francisco Symphony, the National Repertory Orchestra, and the Syracuse Symphony. In 1989, he joined the trombone section of the Rochester Philharmonic, with whom he also performs euphonium a nd bass trumpet. Since joining the RPO, Mr. Kellogg has appeared as soloist with the Orchestra on many occasions, performing the concerti of Tomasi, Albrechtsberger, and Jeff Tyzik (commissioned by the RPO in celebration of the Orchestra's 80th anniversary), works by Elliott Carter and Fred Sturm, and numerous jazz and euphonium solos on the Orchestra's Pops series. He has also been a soloist with the Brass Band of Battle Creek, Hamilton New Music Ensemble, Geneseo's Friends of Music Orchestra, and the U.S. Army Chamber Orchestra.
Active as a jazz musician throughout his career, Mr. Kellogg has performed with Clark Terry, Chris Vadala, Wynton Marsalis, Eddie Daniels, and Mel Tormé. Recent jazz and commercial recordings include collaborations with Jeff Tyzik, Gene Bertoncini, Allen Vizzutti, Steve Gadd, and Gap Mangione. His newly released jazz recording with Eastman School faculty colleague pianist Tony Caramia, Upstate Standards, celebrates the music of upstate New York composers Harold Arlen, Alec Wilder, and Jimmy Van Heusen.
Originally from Hannibal, NY, Mark Kellogg lives in Pittsford, NY with his wife, RPO flutist Joanna Bassett and their son Robbie.
Program Notes for the Evening's Concert.
The Rochester Philharmonic Home Page
---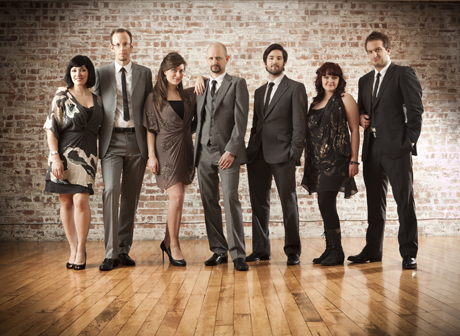 Friday, 1 March 2013, 7:30 PM
Voice Fusions - Reinventing The Feel:
New Interpretations of Old and Modern Classics including
Badiniere, J. S. Bach
Spain, Chick Corea
Claire de Lune, Claude Debussy
The Diva Aria, Gaetano Donizetti
Swingle Ladies, Beyoncé Knowles
Lady Madonna, Lennon/McCartney
Poor Wayfaring Stranger, Traditional
Libertango, Astor Piazzolla
Photo Credit: Ben Ealovega.
Inspired by music from 50 years of Swingle history and contemporary artists, the Swingle Singers continue to push the boundaries with their versions of classic songs. This new show features music by trendsetting British bands Elbow and Mumford and Sons, as well as audience favourites by Björk, the Beatles, Bach, and many others. With their breathtaking new arrangements, haunting harmonies and epic beats, the current lineup of the Swingles bring an energy that's new, contemporary, and relevant. Their message: Don't reinvent the wheel, reinvent the feel!
After half a century, the Swingle Singers are still at the cutting edge of a cappella. With 50 albums, five Grammy Awards, and more than 4000 performances, they're better than ever. The Swingle Singers invite you to celebrate this landmark year with them!
Watch Libertango: The Music Video.
Program Notes for the Evening's Concert.
Canandaigua Magazine article on the Swingle Singers Concert.
The Swingle Singers Homepage.
---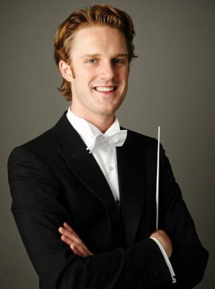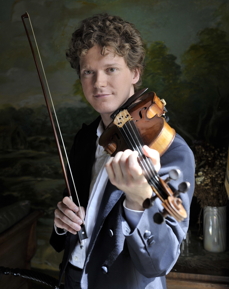 Friday, 19 April 2013, 7:30 PM
Rochester Philharmonic Orchestra
Courtney Lewis
, Guest Conductor
Cory Cerovsek
, Violin
Margaret Brouwer: Remembrances
Henryk Wieniawski: Violin Concerto No. 2
Ludwig van Beethoven: Symphony No. 3, "Eroica"
Born in 1972 in Vancouver, Canada, and now residing in Paris, Cory Cerovsek began playing the violin at the age of five. After early studies with Charmian Gadd and Richard Goldner he graduated at age 12 from the University of Toronto's Royal Conservatory of Music with a gold medal for the highest marks in strings. That same year, he was accepted by Josef Gingold as a student and enrolled at Indiana University, where he received bachelor's degrees in mathematics and music at age 15, masters in both at 16, and completed his doctoral course work in mathematics and music at age 18. Concurrently he studied piano with Enrica Cavallo, until 1997 frequently appearing in concert performing on both instruments.
Corey Cerovsek has performed to constant acclaim with conductors such as Zubin Mehta, Charles Dutoit, Michael Tilson Thomas, and Neeme Järvi. His North American performances have included those with the orchestras of Boston, Philadelphia, San Francisco, Detroit, Cincinnati, St. Louis, Atlanta, Baltimore, Montreal, Vancouver, and Toronto, among many others; and internationally with such groups as the Israel Philharmonic, Iceland Symphony, Prague Symphony, National Symphony (Ireland), Hong Kong Philharmonic, Residentie Orkest of the Hague, Berlin Symphony, Sydney, Melbourne and Adelaide Symphonies (Australia), Bournemouth Symphony, and the Vienna Chamber Orchestra, He has toured in Australia, Canada, Denmark, Japan, China, Austria, the Netherlands, Brazil and Spain.
In recital, Mr. Cerovsek has performed throughout the world, including the Isabella Stewart Gardner Museum (Boston), the Kennedy Center (Washington), Lincoln Center's Walter Reade Theatre and the Frick Collection (New York), the Place des Arts (Montreal), Davies Symphony Hall (San Francisco), Wigmore Hall (London), Cemal Resit Rey Concert Hall (Istanbul), and l'Espace Gianadda (Martigny). He is also an avid chamber musician, regularly appearing at the festivals of Verbier (Switzerland), Kuhmo (Finland) and Tanglewood (USA).
His 2008 Claves label recording of the Wienawski 2nd Violin Concerto and Vieuxtemp's 5th Concerto with Lausanne Chamber Orchestra conducted by Hannu Lintu was received with great acclaim. Corey Cerovsek performs on the "Milanollo" Stradivarius of 1728, an instrument played, among others, by Christian Ferras, Giovanni Battista Viotti, and Nicolo Paganini.
Hailed by the Boston Phoenix as "both an inspired conductor…and an inspired programmer," Courtney Lewis is quickly becoming recognized as one of today's top emerging talents. He is founder and music director of Boston's acclaimed Discovery Ensemble, a chamber orchestra with the mission of introducing inner-city school children to classical music while bringing new and unusual repertoire to established concert audiences. Lewis is also Associate Conductor of the Minnesota Orchestra, where he regularly conducts Young People's concerts, outdoor concerts, and other performances, making a successful subscription debut in the 2011/12 season.
In November 2008 Lewis made his major American orchestra debut with the Saint Louis Symphony Orchestra. Other recent and upcoming appearances include returns to the St. Louis Symphony and the Ulster Orchestra (for a series of BBC Radio 3 Invitation Concerts as well as on subscription) and debuts with the Colorado and New Hampshire Music Festivals as well as the Atlanta and Memphis symphonies, the Naples Philharmonic, Washington's National Symphony Orchestra, the RTÉ National Symphony Orchestra of Ireland, and the Lausanne Chamber Orchestra. Appointed a Dudamel Fellow with the Los Angeles Philharmonic for the 2011/12 season, he made his debut with that orchestra in fall 2011, returning for additional performances in the spring.
Born in Belfast, Northern Ireland, Lewis attended the University of Cambridge, during which time he studied composition with Robin Holloway and clarinet with Dame Thea King, graduating with starred first class honors. After completing a master's degree with a focus on the late music of György Ligeti, he attended the Royal Northern College of Music, where his teachers included Sir Mark Elder and Clark Rundell.
Program Notes for the Evening's Concert
The Rochester Philharmonic Home Page